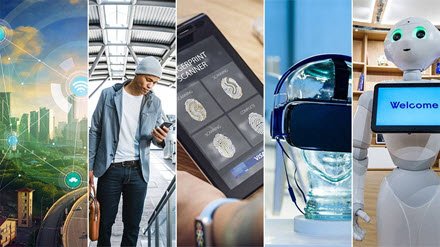 Visa is collaborating with IBM and other partners, including Giesecke and Devrient, Gemalto and Inside Secure, to allow businesses to introduce secure payment experiences throughout the Internet of Things (IoT), making wearables, cars, appliances and many other connected devices potential points of sale.
The Visa Ready Program for Internet of Things now provides IoT device manufacturers with a path to embed secure payments into their connected devices, enabling anything from a watch to a car to initiate payments.
The Visa Ready Summit at this year's MWC will highlight advancements, innovations and best practices in tokenized payments from around the globe that are keeping mobile payments secure in a cardless world.
The Visa Ready Summit at MWC will host a session called "Biometrics: The future of digital payment authentication," featuring senior leaders from Safran Identity Security, Samsung and Visa.
Stop by the Visa innovation space at MWC for a virtual reality experience using Visa Checkout to purchase a Formula E racing ticket using your voice for payment.
Visa USA | Check out these 5 mobile payment trends to watch for at Mobile World Congress 2017.

@VisaNews: 5 payment trends to watch for at #MWC17: #IoT, biometrics, and tokenization lead the pack.
You don't have permission to access "http://usa.visa.com/visa-everywhere/innovation/mobile-payment-trends.html" on this server.