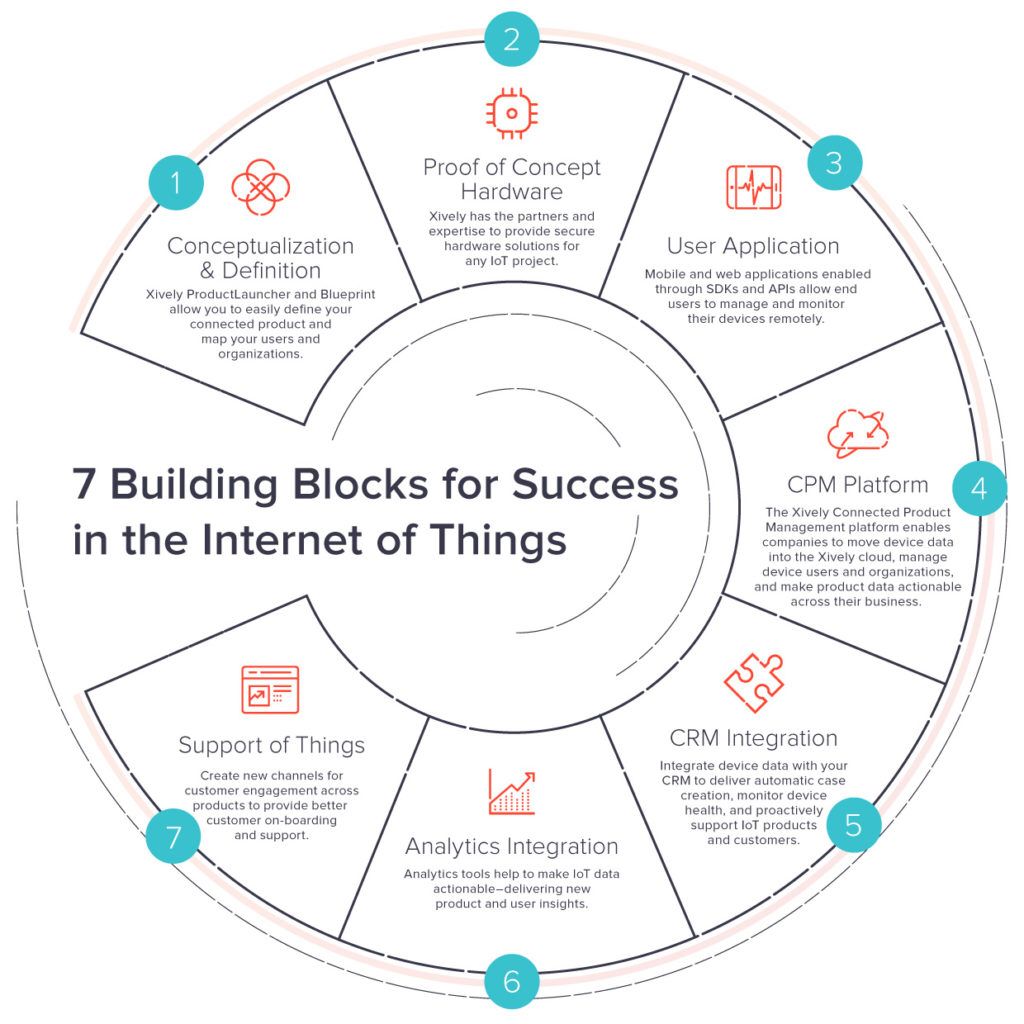 7 Building Blocks for IoT Success
To learn more about these IoT building blocks and how they can help guide your connected product strategy, view our on-demand webinar " Getting Started with IoT – The Building Blocks for a Successful IoT Business ."
Have agreement across the organizations on the business objective of your product and build it to map back to that objective.
Define the audience – who are you selling this product to and what value will it bring to them.
While the building blocks have proven effective time and time again, before doing anything the real first step is to really define the project.
Once a company's IoT solution is well defined and aligns with the business objectives, the subsequent building blocks are easier to address as every decision will revolve around the core connected product strategy.
As the IoT industry continues to mature, there has been a significant shift away from companies asking "why should I connect my products?" and are now wondering "how do I connect my products?". Often these companies have tight timelines and/or strict budgets that they must adhere to in the launching of their IoT solution and are looking for a proven recipe for success. We have worked with hundreds of companies across verticals and business use-cases over the years and over that time have identified seven essential building blocks every company needs in order to create successful, scalable, and secure connected products.

@evankirstel: 7 Building Blocks for #IoT Success – new @XivelyIOT Blog by @ryanjlester
As the IoT industry continues to mature, there has been a significant shift away from companies asking "why should I connect my products?" and are now wondering "how do I connect my products?". Often these companies have tight timelines and/or strict budgets that they must adhere to in the launching of their IoT solution and are looking for a proven recipe for success. We have worked with hundreds of companies across verticals and business use-cases over the years and over that time have identified seven essential building blocks every company needs in order to create successful, scalable, and secure connected products.

While these building blocks have proven effective time and time again, before doing anything the real first step is to  really define the project.  Have agreement across the organizations on the business objective of your product and build it to map back to that objective.  Define the audience – who are you selling this product to and what value will it bring to them.  Map out the data management strategy – know what data you want to collect and how you will use it to add value to the business and the customer.  Once a company's IoT solution is well defined and aligns with the business objectives, the subsequent building blocks are easier to address as every decision will revolve around the core connected product strategy.

To learn more about these IoT building blocks and how they can help guide your connected product strategy, view our on-demand webinar "Getting Started with IoT – The Building Blocks for a Successful IoT Business."