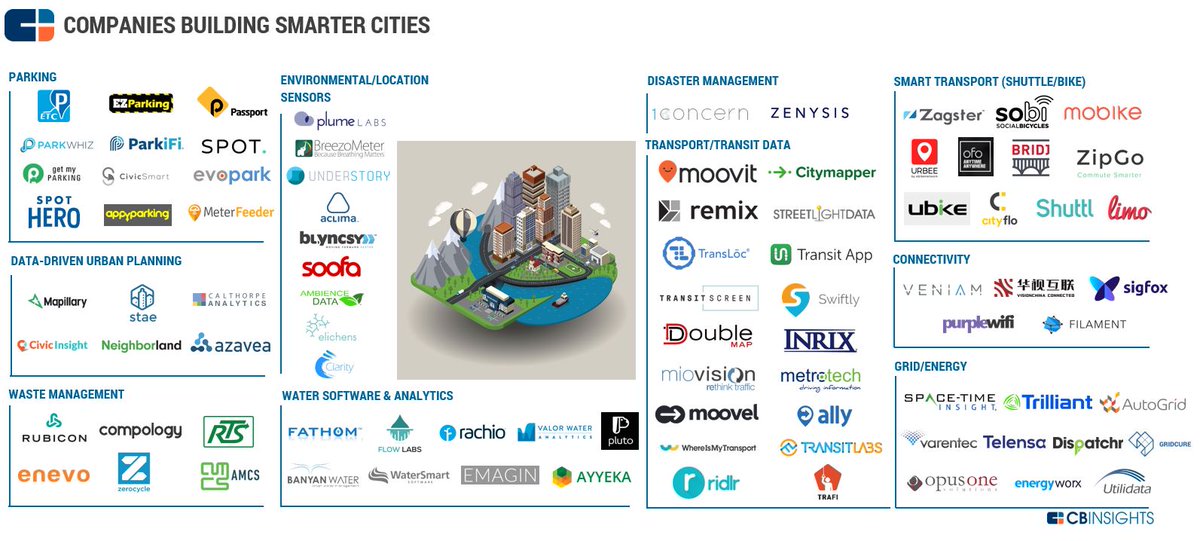 80+ Startups Making Cities Smarter Across Traffic, Waste, Energy, Water Usage, And More
Those sensors are allowing us to gather new data that was previously inaccessible, and one impact is the growth of companies with the potential to make our cities smarter and more efficient as a whole.
We used CB Insights data to segment the growing crop of companies that are working to build smart cities.
We define startups operating in the smart cities segment as those that are helping to connect services, utilities, and roads to the internet.
These startups are providing data-driven services that help cities increase their efficiency in using resources and/or help increase public transit-related mobility for city consumers.
These are some of the areas that these startups are operating in:

Want more information on smart city companies?
The Internet of Things is helping cities improve everything from traffic data, weather, and parking to water usage and waste management.

@CBinsights: 80+ Startups Making Cities Smarter Across Traffic, Waste, Energy, Water Usage, And More
The cost of sensors has more than halved in the 10 years to 2014, falling to an average of 60 cents per unit. Declining sensor cost is one of the main drivers of Internet of Things technology, and the proliferation of internet-connected devices in the built environment. Those sensors are allowing us to gather new data that was previously inaccessible, and one impact is the growth of companies with the potential to make our cities smarter and more efficient as a whole.

We used CB Insights data to segment the growing crop of companies that are working to build smart cities.

We define startups operating in the smart cities segment as those that are helping to connect services, utilities, and roads to the internet. These startups are providing data-driven services that help cities increase their efficiency in using resources and/or help increase public transit-related mobility for city consumers.

SpotHero 500 Startups, Battery Ventures, Lightbank Parking

Social Bicycles SOSventures. New York Angels, SoundBoard Angel Fund Smarter Transport
80+ Startups Making Cities Smarter Across Traffic, Waste, Energy, Water Usage, And More