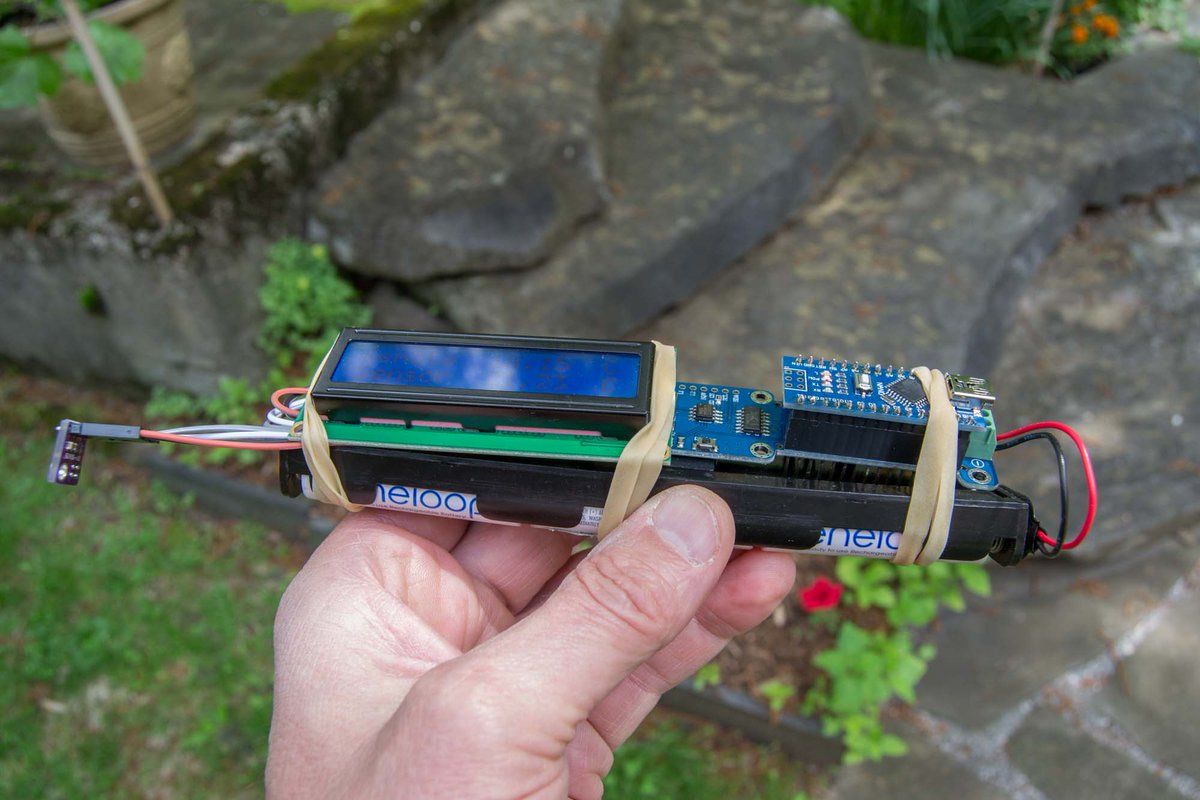 Portable Thermal IR Temperature Logging Device
Public Lab has been incorporating a thermal infrared sensor into projects for more than five years.
The Thermal Flashlight is based on Melexis MLX90614 sensor which determines the temperature of an object by sensing the thermal infrared radiation emitted from it.
I hooked up a similar sensor to the Nano Data Logger to see how it worked.
Check out all the Circuit Playground Episodes!
Join us every Wednesday night at 8pm ET for Ask an Engineer!
Public Lab has been incorporating a thermal infrared sensor into projects for more than five years. The Thermal Flashlight is based on Melexis MLX90614 sensor which determines the temperature of an object by sensing the thermal infrared radiation emitted from it. I hooked up a similar sensor to the Nano Data Logger to see how it worked.

@arduino: A portable thermal IR temperature logging device:
Portable Thermal IR Temperature Logging Device | via @PublicLab « Adafruit Industries – Makers, hackers, artists, designers and engineers!

toggle menu

0

MENU

SHOP HOME

NEW PRODUCTS

ARDUINO

RASPBERRY PI

BEAGLEBONE

NEOPIXELS

WEARABLES

COSPLAY/COSTUMING

YOUNG ENGINEERS

PROTOTYPING

HALLOWEEN

KITS & PROJECTS

BREAKOUT BOARDS

DEVELOPMENT BOARDS

RESELLER & UNIVERSITY PACKS

LCDS & DISPLAYS

LEDS

POWER

CABLES

TOOLS

ROBOTICS & CNC

ACCESSORIES

COMPONENTS & PARTS

SENSORS

EL WIRE/TAPE/PANEL

3D PRINTING

BOOKS

SOFTWARE

WIRELESS

GIFT CERTIFICATES

INTERNET OF THINGS – IOT

PARTICLE

BLOG HOME

3D PRINTING

ART

RASPBERRY PI

RANDOM

ARDUINO

WEARABLES

SCIENCE

COSTUMING

COSPLAY

LEARN

VIDEOS HOME

COMPONENTS

SENSORS

HACKS

MICROCOMPUTERS

ADAFRUIT PRODUCTS

MAKER BUSINESS

PROJECTS

LEDS

RASPBERRY PI

BRAINCRAFTS

LCDS & DISPLAYS

EL WIRE/TAPE/PANEL

TOOLS

MICROCONTROLLERS

LEARN ARDUINO

CUSTOMER PROJECTS

BEAGLEBONE

CIRCUIT PLAYGROUND

3D PRINTING

TRINKET

ROBOTICS

COLLIN'S LAB

COMMUNITY SUPPORT

WEARABLES

ADAFRUIT IO

ARDUINO

FEATHER

CIRCUIT PLAYGROUND

WIRELESS

SIGN IN

SIGN OUT

0 Items Sign In

SHOP

BLOG

LEARN

FORUMS

VIDEOS

BLOG

August 29, 2017 AT 8:57 am

Portable Thermal IR Temperature Logging Device | via @PublicLab

Public Lab has been incorporating a thermal infrared sensor into projects for more than five years. The Thermal Flashlight is based on Melexis MLX90614 sensor which determines the temperature of an object by sensing the thermal infrared radiation emitted from it. I hooked up a similar sensor to the Nano Data Logger to see how it worked.

Read more here.

Read more here.

Check out all the Circuit Playground Episodes! Our new kid's show and subscribe!

Have an amazing project to share? Join the SHOW-AND-TELL every Wednesday night at 7:30pm ET on Google+ Hangouts.

Join us every Wednesday night at 8pm ET for Ask an Engineer!

Learn resistor values with Mho's Resistance or get the best electronics calculator for engineers "Circuit Playground" – Adafruit's Apps!

Maker Business — Avnet Acquires Dragon Innovation

Wearables — Zig then zag

Electronics — Diode Test Current

Biohacking — Fitbit's is Going Big on their Next Smart Watch "Ionic"

Get the only spam-free daily newsletter about wearables, running a "maker business", electronic tips and more! Subscribe at AdafruitDaily.com !

No Comments

No comments yet.

Leave a comment

Adafruit has a "be excellent to each other" comment policy. Help us keep the community here positive and helpful. Stick to the topic, be respectful of makers of all ages and skill levels. Be kind, and don't spam – Thank you!

Name (required)

Mail (will not be published) (required)

Website

Prove you are human by reading this resistor:

0Ω+/- 5%

0

0

1

2

3

4

5

6

7

8

9

0

0

1

2

3

4

5

6

7

8

9

0

0

1

2

3

4

5

6

7

8

9

5

5

10

Prove you are human by reading this resistor:

Match the sliders on the left to each color band on the resistor.

Click Here for a new resistor image.

New to electronics? Click here to learn how to read resistor values.

Or learn to read resistors by playing Mho's Resistance!

Filed under: components & parts —

Tags: sensor, temperature, temperature sensor, temperature sensors — by nicknormal

Comments (0)

Contact

Support

Distributors

Educators

Jobs

FAQ

Shipping & Returns

Terms of Service

Privacy & Legal

About Us

Engineered in NYC Adafruit ®

"Hardware eventually fails. Software eventually works" – Michael Hartung