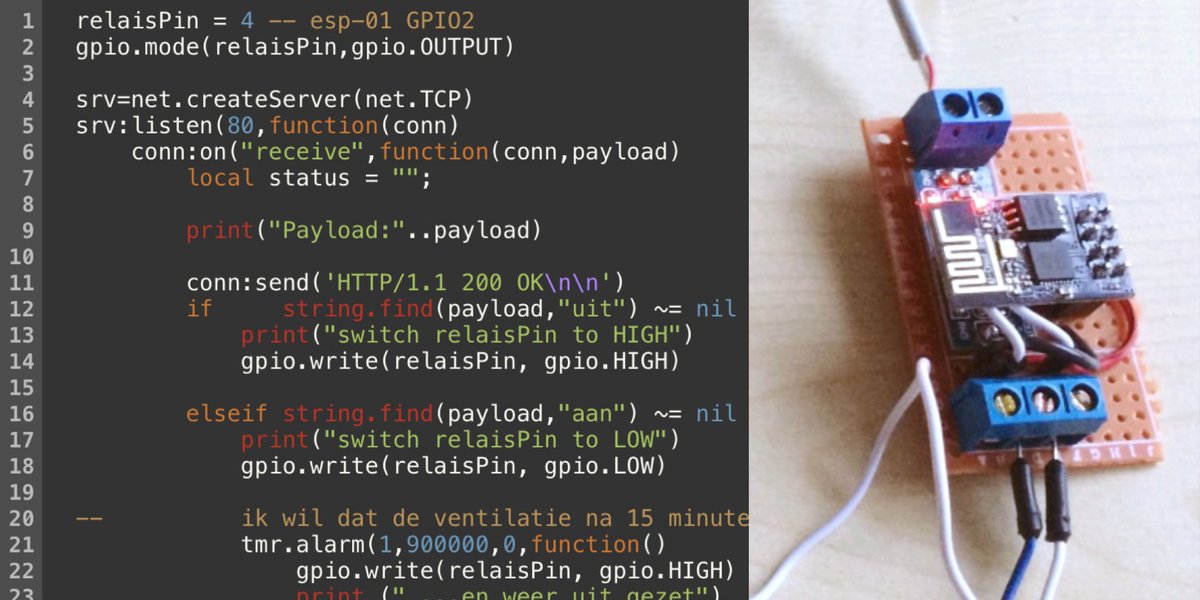 Adding WiFi to my home ventilation system
Adding WiFi to my home ventilation system
getmode ()) print ( " The module MAC address is: " .. wifi .
read ( relaisPin ) == 1 ) then conn : send ( " aan (1), uit (0) = 0″ ) else conn : send ( " aan (1), uit (0) = 1″ ) end conn : close (); collectgarbage (); end ) end )
In order to remotely turn my mechanical ventilation system in overdrive I added a wifi enabled switch to the system.
) else tmr.stop(1) print("ESP8266 mode is: " .. wifi.getmode()) print("The module MAC address is: " .. wifi.ap.getmac()) print("Config done, IP is "..wifi.sta.getip()) print("5 seconds to stop timer 0") tmr.alarm(0, 5000, 0, function() print("Starting web listener…"
Read the full article, click here.
---
@ESP8266: ""Adding WiFi to my home ventilation system" by @johsm
🔧
♺ @hacksterio #IoT #Lua #ESP8266"
---
In order to remotely turn my mechanical ventilation system in overdrive I added a wifi enabled switch to the system. Find this and other hardware projects on Hackster.io.
---
Adding WiFi to my home ventilation system