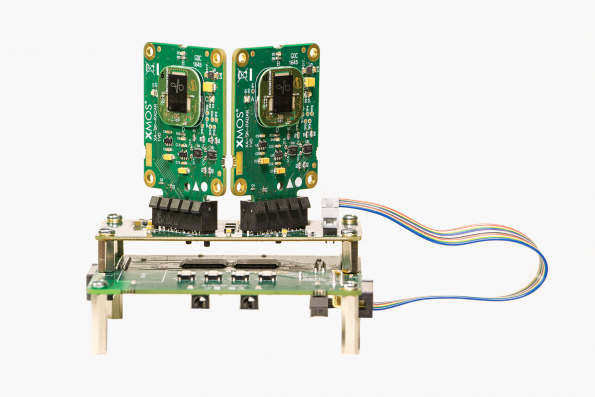 Alexa is about to disappear into other devices, thanks to a new technology
Now, a British firm is about to become the world's world's first to offer this technology and incorporate the Amazon Alexa Voice Service.
XMOS, which a month ago closed a $15 million funding round led by Infineon, has become the first European chip company to release a qualified Amazon Alexa Voice Service (AVS) development kit.
It will also be the first company in the world with an AVS-qualified "far-field linear mic array."
While there are competing solutions, XMOS has the first far-field linear array to support Alexa, meaning Alexa could melt into the background.
The far-field linear array is the first Alexa-qualified solution for things that have flat panels or sit against the wall — like about 90 percent of the technology in your home.
The reason you have an Amazon Alexa sitting on your coffee table or by a couch is because it needs to be able to hear you clearly when you speak. Too near the..

@evankirstel: #Alexa is about to disappear into other devices, thanks to a new tech #IoT
Today, the reason you have an Amazon Alexa sitting on your coffee table or by a couch is because it needs to be able to hear you clearly when you speak. Too near the TV and it'll go ordering strange things, whenever someone, like South Park's Cartman, says "Alexa!"

What is required is a sophisticated technology — the so-called 'far-field linear microphone' —that can listen for a human voice while ignoring all the other noise around. It's literally harder than it sounds.

Now, a British firm is about to become the world's world's first to offer this technology and incorporate the Amazon Alexa Voice Service.

XMOS, which a month ago closed a $15 million funding round led by Infineon, has become the first European chip company to release a qualified Amazon Alexa Voice Service (AVS) development kit. It will also be the first company in the world with an AVS-qualified "far-field linear mic array."

This technology combines the radar normally used in cars with microphones. This means that you can take your voice-enabled speaker off your coffee table and put it back where it belongs — against a wall, discretely integrated into other kit. This means Alex would simply disappear and be discretely integrated it into something else.

XMOS has 50 employees, making it the smallest company to achieve AVS qualification. Its competitors include Synaptics, which has a $1.27 billion market cap and 1,800…
Alexa is about to disappear into other devices, thanks to a new technology