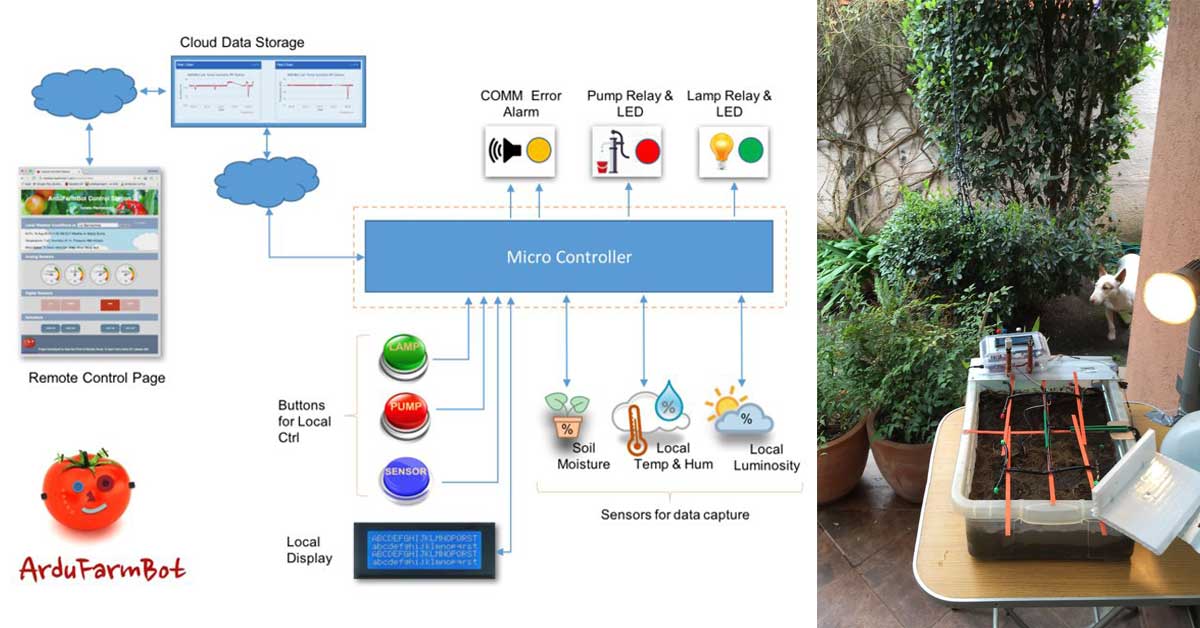 ArduFarmBot: Controlling a Tomato Home Farm using Arduino and IoT
It uses a capacitive humidity sensor …
Step 5: Playing with a real Soil Moisture Sensor
Step 3: Adding a LCD for local monitoring
Soil Moisture Sensor – ($1.99) (Optional, can be DIY)
Step 2: Installing, programing and testing the sensors
(If you like this Instructable, please do not forget to vote on it clicking the top flag. It is competing on BACKYARD Contest. Thanks a lot! ;-)The goal of this project is to create a fully automated Arduino based tomato home farm. The general idea is to capture information from a tomato plantation, as temperature, relative air humidity, luminosity and soil humidity and based on those data decide the right amount (and when) the plantation should receive heat and water. Also the project should allow manual intervention of an operator in order to control a water pump and an electric lamp to generate heat for the plantation. The manual intervention must be both, local and remote via Internet.In short, the system should receive as input: Sensors (analog data): Temperature Humidity Luminosity Soil Moisture Buttons: Pump ON/OFF Lamp ON/OFFThe system should provide as an output: Actuators: Relay for Pump control Relay …

@instructables: ArduFarmBot: Controlling a Tomato Home Farm Using #Arduino and #IoT
(If you like this Instructable, please do not forget to vote on it clicking the top flag. It is competing on BACKYARD Contest. Thanks a lot! 😉

The goal of this project is to create a fully automated Arduino based tomato home farm. The general idea is to capture information from a tomato plantation, as temperature, relative air humidity, luminosity and soil humidity and based on those data decide the right amount (and when) the plantation should receive heat and water. Also the project should allow manual intervention of an operator in order to control a water pump and an electric lamp to generate heat for the plantation. The manual intervention must be both, local and remote via Internet.

In short, the system should receive as input:

The system should provide as an output:

The above block diagram shows the main components of the project.

The video bellow describe the first laboratory prototype used for testing:

And this one shows how the commands will work local and remotely via WebPage:

The project will be divided in 3 parts:

Here in this first Instructable we will explore the Local Station, taking care of sensors, actuators, learning how to display data, etc. In this first part we will not handle the ESP8266, Thingspeak, etc.
ArduFarmBot: Controlling a Tomato Home Farm using Arduino and IoT