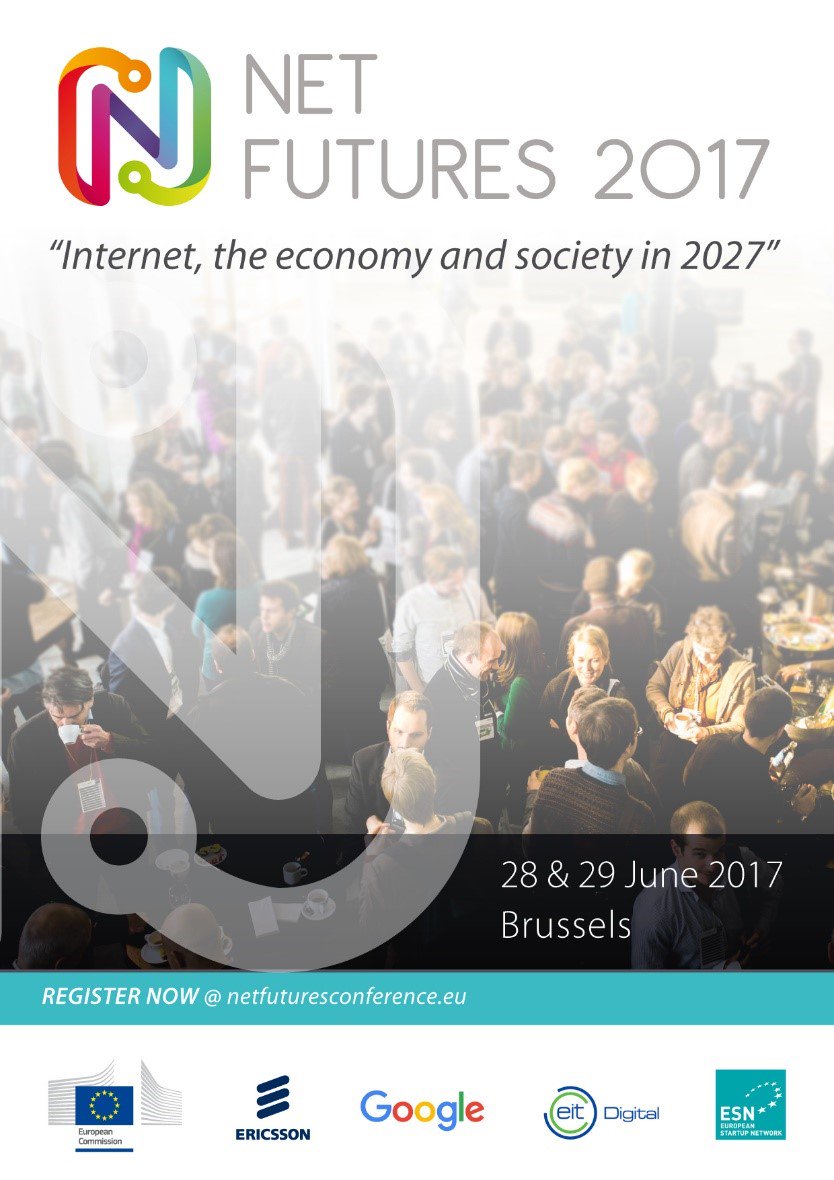 During the two days of Net Futures 2017 we create an immersive and constantly changing exhibition about the present state and the future of artistic and tech cooperation.
The exhibition will highlight the fashion-tech collaboration between Martine-Nicole Rojina and Jasna Rok, the first Belgian FashTech design studio.
"The Futures of Works" showcases the result of the Transmedia Design course held by Salvatore Iaconesi and Oriana Persico at ISIA Florence, in collaboration with Nefula – Near Future Design Studio: a series of design fiction under the form of immersive video and "pretotypes" to expolore the transformation of work.
A quadrophonic soundscape presents inner thought monologues of future beings written by Prof. Dr. Mark Coeckelbergh, chair on philosophy at the University of Vienna.
We are going through a technological revolution that will fundamentally change the way we live, work, and relate to one another. This transformation led by Internet, its scale, scope, and complexity, will be unlike anything humans have experienced before. We do not know where exactly this

@IoF2020: As of tomorrow, @netfuturesEU will gather European #IoT community in Brussels.
We are going through a technological revolution that will fundamentally change the way we live, work, and relate to one another. This transformation led by Internet, its scale, scope, and complexity, will be unlike anything humans have experienced before. We do not know where exactly this 'internetisation' will lead us to: What will our society look like in 2027?

However one thing we know: People simply expect a lot more from the Internet, in terms of quality and reach, in terms of security and privacy, an Internet that is inclusive and supports openness, diversity and responds to the needs of the individuals.

We feel that not all European policy actors share this sense of urgency for action. However it is imperative to address these challenges or Europe's voice on the future of the Internet will disappear.

The NET FUTURES edition in 2017 will serve as a wake-up call for policy makers and technologist alike, for civil society and the young whose future we will influence. It will be the place for deep-dive conversations and learnings right at a time when Europe is at the brink of entering the next industrial revolution: The Net.

STARTS Exhibition

(curated by Martine-Nicole Rojina)  

During the two days of Net Futures 2017 we create an immersive and constantly changing exhibition about the present state and the future of artistic and tech cooperation.

The exhibition will highlight the fashion-tech collaboration between Martine-Nicole Rojina and Jasna Rok, the first Belgian FashTech design studio.

"The Futures of Works" showcases the result of the Transmedia Design course held by Salvatore Iaconesi and Oriana Persico at ISIA Florence, in collaboration with Nefula – Near Future Design Studio: a series of design fiction under the form of immersive video and "pretotypes" to expolore the transformation of work.

A quadrophonic soundscape presents inner thought monologues of future beings written by Prof. Dr. Mark Coeckelbergh, chair on philosophy at the University of Vienna.

Two immersive live performances,  Body Quake  (Art Is Open Source, Francesca Fini, Neuromed, AVNode) and  All_Che_Me (Martine-Nicole Rojina, Marcello Giannandrea, Francesco Cigana, Federico Bragetti, G uida Inês Maurício, José Andrés Cordova Alvear, Jasna Rokegem) feature the powerful synergy of science, technology and art.

See Starts-session