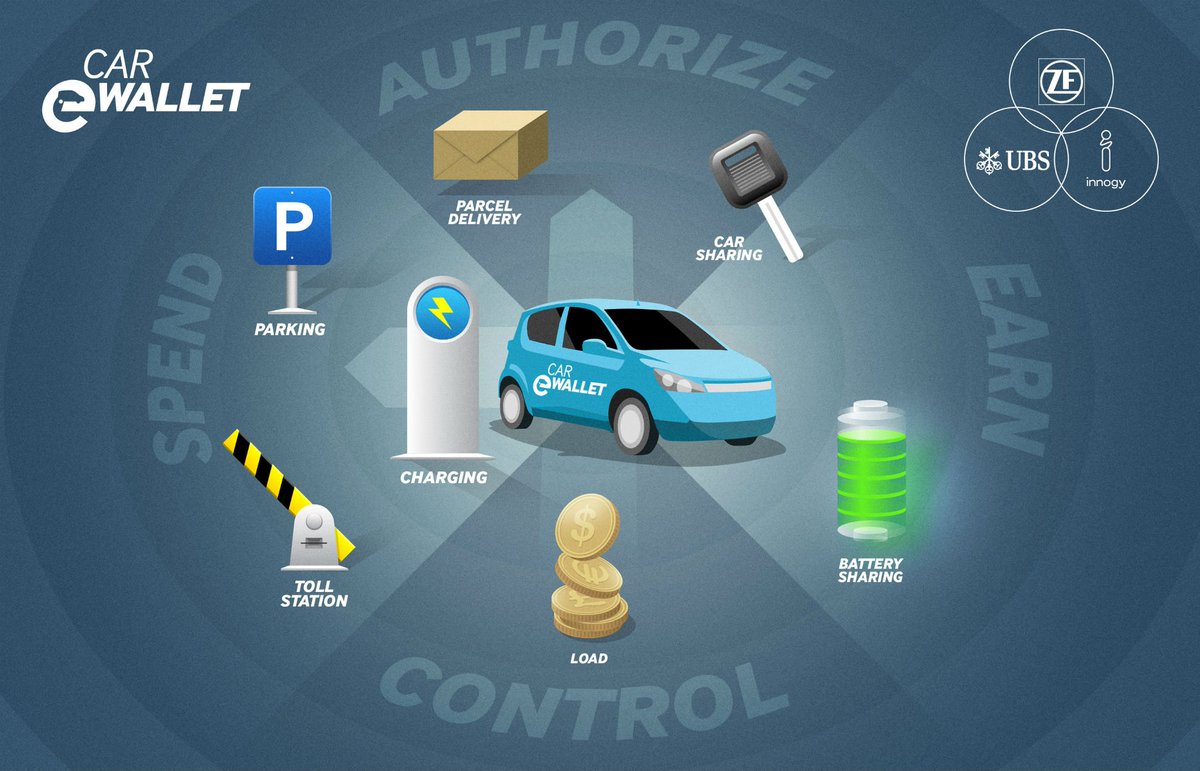 Automobile eWallet uses a blockchain to enable new technology » Brave New Coin
The eWallet would be able to allow others into the car, or perhaps just a designated section of the car like under the hood or in the trunk.
Dubbed the "Visa connected car," the project also uses a blockchain, and is designed to end the era of stopping your vehicle at ATM machines.
Blockchain technology, the partners note, would help reallocate power from where it's cheaper to where it's needed far more efficiently than conventional power systems today. "
The car could also provision energy back to the power supply system if authorized by the user to fulfill such demand."
The Car eWallet will be able to transact the smallest of payments which makes 'charge on the go' more attractive for power suppliers."
German auto engineering firm ZF Friedrichshafen AG, along with Swiss banking giant UBS and the innogy Innovation Hub recently announced that they have built a blockchain-based automobile "eWallet," and are planning to field-test a car with the eWallet in 2017.

@evankirstel: Automobile eWallet uses a #blockchain to enable new technology #IoT #payments
German auto engineering firm ZF Friedrichshafen AG, along with Swiss banking giant UBS and the innogy Innovation Hub recently announced that they have built a blockchain-based automobile "eWallet," and are planning to field-test a car with the eWallet in 2017.

"The Blockchain Car eWallet makes it easy to pay for charging electric cars," ZF stated in their Announcement. "The electronic wallet can even be used to pay for highway tolls, parking fees or car-sharing."

While there is no mention of a cryptocurrency, "users can easily transfer money online from a PC or a dedicated mobile app." However, the design requires a blockchain that allows instant and secure, peer-to-peer microtransactions. Without the blockchain, ZF and partners state that some of the technologies they have in mind for future consumer and commercial cars wouldn't be feasible.

"On the morning drive to the office, the car will automatically pay a toll, thus saving the driver the trouble of waiting in line at a tollbooth. The driver is then notified while still in transit and the user receives updates online of every payment transaction made by the Car eWallet."

ZF Friedrichshafen AG is well known as one of the largest parts manufacturers in the automotive industry, with over 135,000 employees in 40 countries around the world working on a wide array of car engineering projects. Founded in 1915 to produce gears for the great German Zeppelins, the company has made it a point to spend five percent of its revenue on Research projects per year. This year it was blockchain technology's turn to receive some of that focus.

Partner innogy Innovation Hub is a European startup accelerator and subsidiary of Germany's largest power company, Innogy SE. Part of their stated focus area is on, "Grid & Infrastructure and Retail," and they are hoping to help design a. "modern, decarbonized, decentralized and digital energy world."

Swiss megabank UBS has long been interested in blockchain technology, working on several projects since early 2015 when they opened their own Blockchain technology lab. The bank helped launch a FinTech accelerator in March, promoting blockchain tech, and recently announced plans to test a "Utility Settlement Coin" in a real-world environment. Joining with ZF to test the eWallet might be one way to test their coin in a real world environment.

"We at UBS believe the blockchain is a potentially transformative technology that will leave as deep a mark on our world over the next twenty years as the Internet has over the last twenty. For this reason we have been very active not only in understanding it, but in collaborating with the wider community in helping to shape a blockchain enabled future financial industry."

– Axel Lehmann, UBS Group Chief Operating Officer

Besides automatically paying for tolls and parking meters on the fly, ZF's announcement mentions a handful of uses for the eWallet that may seem impractical today. The most clever of them involves micropayments to pay for energy.

The charging solution, inductive charging, is currently used in many wireless devices, but hasn't been used in production vehicles as the process can only transmit small quantities of power to the vehicle. Using microtransactions on a secure blockchain, inductive charging could refuel cars "while waiting at a red light or at a pedestrian crossing," the announcement states.

"Every user will have rapid and simple access to the charging infrastructure registered on the blockchain," ZF stated. There would be no separate registration or login process required, and payments would be automatic. "With its micropayment feature, the Car eWallet will be able to transact the smallest of payments which makes 'charge on the go' more attractive for power suppliers."

Blockchain technology, the partners note, would help reallocate power from where it's cheaper to where it's needed far more efficiently than conventional power systems today. "The car could also provision energy back to the power supply system if authorized by the user to fulfill such demand."

The project also focuses on secure access systems, which benefit from the blockchain's peer-to-peer-based security. One part of the plan calls for the eWallet to accept payments directly from other people in rental car situations, in order for the payee to securely gain access to the vehicle. "Instead of having a potential ride or car-sharing vehicle standing uselessly in a parking lot," the plans explain, "the Car eWallet could make it available for use to third parties and receive the fees for the car-sharing from the temporary driver."

General vehicle access can also benefit from the blockchain-based authentication, they mention. The eWallet would be able to allow others into the car, or perhaps just a designated section of the car like under the hood or in the trunk.

"It will allow delivering packages directly to a vehicle and placing them in the trunk, while still protecting the vehicle from unauthorized access."

Visa demonstrated similar concept technology in partnership with DocuSign last November. Dubbed the "Visa connected car," the project also uses a blockchain, and is designed to end the era of stopping your vehicle at ATM machines.

"Your car will become an extension of your payment card," Visa claims, "integrating your Visa account with other advanced auto technologies, including geo-location and 4G cellular connectivity." ZF's vision is much more detailed and takes advantage of many more features of blockchain technology, including multisignature payments and microtransactions.

Meanwhile, Mycelium wallet's Swish application is bridging the gap between wallets and other systems. Dubbed as a "21st century order automation system" by the company, Swish allows for their wallet to interface with their open restaurant network, so that drivers can order their meals en route and have it paid for and waiting for them.
Automobile eWallet uses a blockchain to enable new technology » Brave New Coin