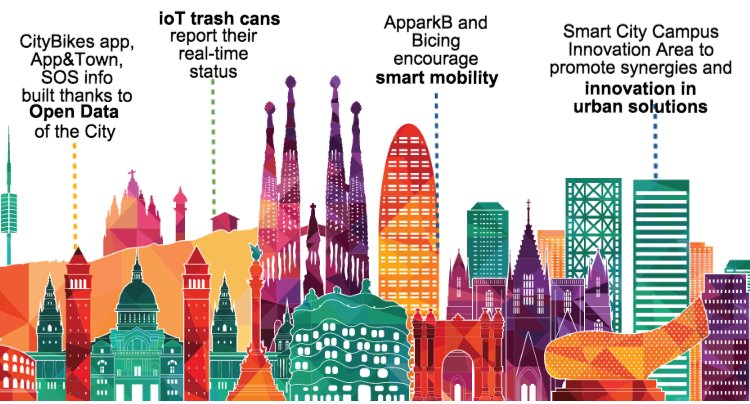 The existence of clusters, technological centres and universities that have specialised in smart cities, play an important role when explaining the motives behind the development of business activity in this sector in Catalonia in recent years.
Catalonia has opportunities for foreign investment in the smart city ambit for those companies without a smart presence in Catalonia, but with a high technological development profile and which have carried out international projects over the past four years.
The smart city technologies the European Union are giving priority to – via the Horizon 2020 projects – are those connected to energy, mobility, ICT integration in infrastructures and data management; in other words, those that show greater opportunities for innovation.
In Catalonia there are various initiatives and entities concerning smart cities: such as ACCIÓ, that is promoting projects and initiativesin the public administration, organised clusters, universities, technological centres and other key players, trade fairs and international networks.
The Catalan company SIARQ, specialised in the integration of solar energy in urban areas, has developed an innovative, zero emission and smart solar streetlight, designed to incorporate different smart city sensors according to the needs of different urban environments.
Barcelona tops the rankings of smart cities in the world

@SmartCityexpo: #Barcelona is in the top of #smartcity rankings. Here's why #smartcities
Catalonia is open to business and open to the world. A talented proactive workforce in a dynamic business climate offers new companies numerous competitive advantages.

Catalonia has historically been a place with a flair for business and this has given it a solid and varied economy. In fact, Catalonia can boast more economic diversification than many other areas in Europe, combining traditional industrial sectors with new emerging business areas.

Setting up business in Catalonia is straightforward but it gets even easier if you receive first-hand details on the local steps and procedures. Our success lies in offering a pro-business approach and tailor-made solutions.

Technology transfer, research facilities, innovation and talent in R&D. Tap into Catalan innovation with us.

Catalonia connects you to one of the European most dynamic ecosystems of startups & investors

Barcelona tops the rankings of smart cities in the world. The Catalan capital is the second smart city in the world after Singapore (Juniper Research, 2016). Catalonia, over and above the activity in its capital, is itself a pioneer in the adoption of smart solutions for urban management; with public and private initiatives developing internationally recognised strategies and municipal projects.

A smart city, according to the EU Parliament, is "a city seeking to address public issues via ICT based solutions on the basis of a multi-stakeholder, municipally based partnership". Barcelona is the Mobile World Capital and has a powerful ICT sector that connects, facilitates…