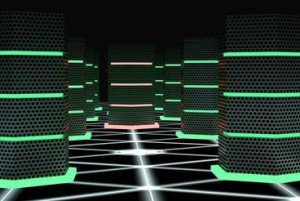 Can Blockchain Help Secure the Internet of Things?
Blockchain technology is seen as a way to add security and privacy to sensors and devices," he states. "
Blockchain technology and IoT security: pilots to live projects
Gada observes that blockchain offers inherent security not present in current, traditional networks. "
Along with getting security right, the sheer volume of data being collected may overwhelm some devices and networks. "
Blockchain technology may help offer an answer.
Blockchain technology and IoT security: It is hoped that blockchain will help secure Internet of Things devices from malware and other types of attacks.

@digifinancegirl: Can #blockchain help secure the Internet of Things? | via @RTInsights | #bitcoin #IoT
The internet had its own "October surprise" when DVR and IP cameras were infected with malware and created a massive outage that took down Twitter, Reddit, The New York Times, PayPal and other major websites. The malware targeted Internet of Things (IoT) devices such as routers, digital video recorders, and webcams/security cameras. Experts fear this may only be the beginning, and with millions of devices across the IoT, the internet remains vulnerable.

The October IoT incident was only the latest security breach against this soft underbelly of the internet. Dennis ada, VP and global client partner at Infosys, cautions that the vulnerability of IoT is increasingly be exploited. "There are numerous reports around hacking of connected devices and vehicles, including when security researchers took control of the steering and transmission of a Jeep Cherokee, traveling 70 mph on the highway," he relates.

Is there a way to prevent or at least minimize a future attack against the IoT?

Blockchain technology may help offer an answer. Gada observes that blockchain offers inherent security not present in current, traditional networks. "Blockchain technology is seen as a way to add security and privacy to sensors and devices," he states. "In traditional IT architectures, tampering can occur if a hacker is able to get through firewalls and other defenses built up by an organization. Once inside, tampering is often not recorded or noticed, and can occur unimpeded. This is simply not possible when using blockchain."

Blockchain, Gada explains, is "a suitable solution in at least three aspects of IoT, including big data management, security and transparency, as well as facilitation of micro-transactions based on the exchange of services between interconnected smart devices."

Blockchain technology and IoT security: pilots to live projects

While momentum is building, and there is an increasingly urgent need for network security, it may take some time for blockchain-secured networks to evolve, Gada says, as the technology is still in its pilot stage. However, he predicts, live projects are likely to emerge soon.

"There has been lot of traction in the pilot projects, especially in the financial services industry," he observes. "Banks and financial services companies have been forming partnerships with each other and with technology companies to build blockchain proof-of-concepts — major areas of testing include payments, lending, as well as trading and settlements. The emerging areas of interest include smart contracts, loyalty rewards and loans and mortgages."

While the earliest instances of blockchain have been within financial sector, Gada says other industries that can benefit in the near term as well. For example, he relates, "healthcare is an emerging area where blockchain could bring security and health data interoperability benefits using the technology's privacy and trust features. While the growth of electronic health record systems in the healthcare industry could benefit the blockchain adoption, however, there is concern about the huge processing power, as well as the specialized hardware and software systems needed to harness the technology."

Gada also points to Filament, a US-based blockchain and IoT startup, as an example of IoT blockchains in action. "Its focus is long-range wireless networks, and its main product is the Tap, a device registered on the blockchain with environmental sensors that can integrate with other sensors," he explains. "The sensors have a wireless range of over 15 km that does not depend on WiFi or cellular networks. These sensors help farmers to monitor soil quality, cities to control outdoor lighting and vending machine operators to optimize inventory, among a host of other potential applications."

Gada also cautions there are risks or challenges with employing blockchain to manage IoT networks or transactions. Along with getting security right, the sheer volume of data being collected may overwhelm some devices and networks. "Storage will also be a hurdle when employing blockchain, as it eliminates the need for a central server to store transactions and device IDs," he predicts. "However, given that the ledger has to be stored on the nodes themselves, and the ledger will increase in size as time passes, this surpasses the capabilities of a wide range of smart devices, including sensors, which generally have very low storage capacity."

More on this topic: