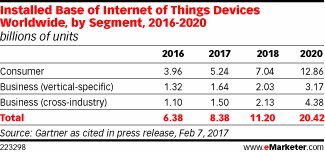 Consumers Concerned About IoT Device Hacking
A July survey from digital platform security firm Irdeto polled internet users in several countries—Brazil, China, Germany, India, the UK and the US—to gauge their feelings about IoT devices.
The US fell close to the average, with 67% troubled about their devices' security.
Fully 90% of respondents thought it important that smart devices have strong security features built in to stave off incursions by criminals.
Interestingly, the survey also found that awareness about security threats to internet-enabled devices actually increased with the age of respondents.
For example, 72% of those ages 18 to 24 were aware that IoT devices could be targeted by hackers, but that figure rose to 80% among 45- to 54-year-olds.
Nearly two-thirds worried their internet-enabled gadgets could be compromised

@MarshaCollier: Consumers Concerned About #IoT Device Hacking
#marketing #security
The internet has been winding its way into everything from washing machines to refrigerators for a few years now, pushing consumers into the age of the internet of things (IoT).

And the number of IoT devices is set to explode. Earlier this year, Gartner estimated that 8.38 billion internet-connected devices would be in use worldwide this year, an increase of 31% from last year's figure. By 2020, the firm predicts there will be 20.42 billion IoT devices in use. And the vast majority of them, 12.86 billion, will fall into the consumer device segment.

But with seemingly every news cycle bringing revelations of another security breach or hack, consumers may be increasingly wary of the potential pitfalls of devices that can be accessed remotely online.

A July survey from digital platform security firm Irdeto polled internet users in several countries—Brazil, China, Germany, India, the UK and the US—to gauge their feelings about IoT devices. It found that more than two-thirds of respondents (69%) were worried about their smart devices being susceptible to hacking.

Concerns were highest in Brazil (88%) and India (80%). The US fell close to the average, with 67% troubled about their devices' security.

However, consumers have high expectations about the responsibility device manufacturers should bear to ensure their gadgets are safe from cyberattacks. Fully 90% of respondents thought it important that smart…