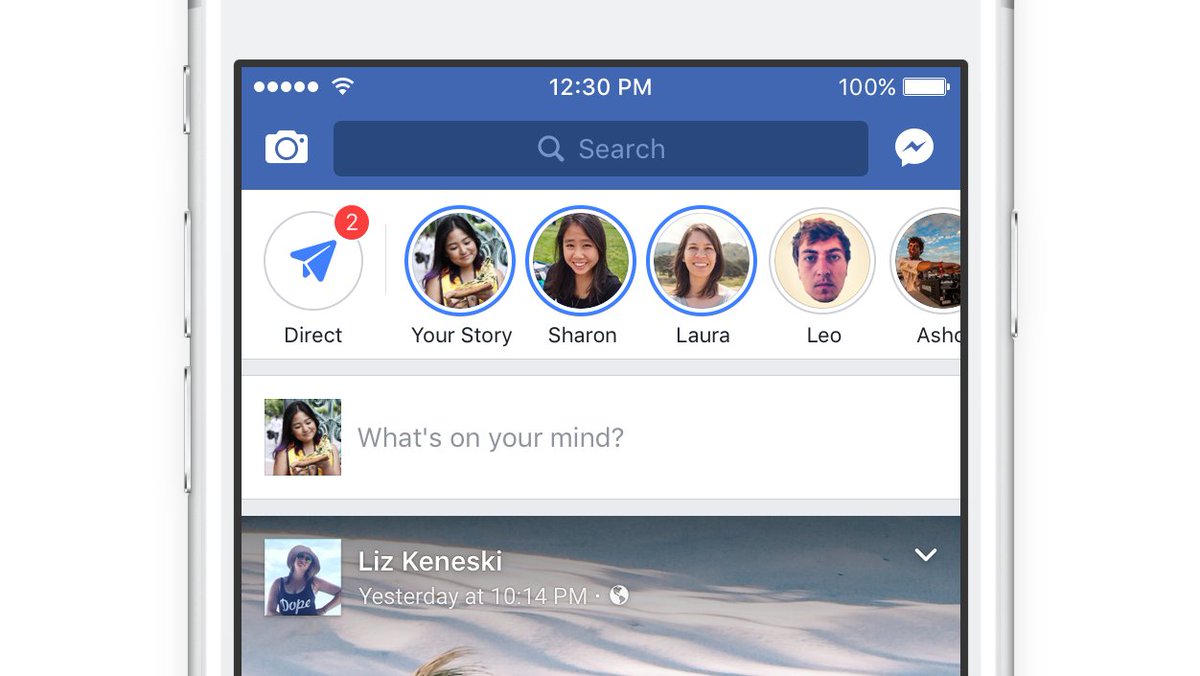 Facebook launches Stories in the main Facebook app
Facebook's plan to copy everything that made Snapchat successful is finally reaching its final form with the launch of stories in the main Facebook app.
You can now share stories with your Facebook friends and see what your friends have been up to for the past 24 hours.
At the top of the Facebook app, you'll see rounded profile pictures representing stories by your friends.
Once you get access to stories, you'll find a camera icon in the top left corner of the Facebook app.
So Facebook has now added stories to all its main apps — Facebook, Messenger, Instagram and Whatsapp.
Snapchat all the things! Facebook's plan to copy everything that made Snapchat successful is finally reaching its final form with the launch of stories in..

@craigbrownphd: Facebook launches Stories in the main Facebook app #5G #IoT #mobile
Snapchat all the things!

Facebook's plan to copy everything that made Snapchat successful is finally reaching its final form with the launch of stories in the main Facebook app. You can now share stories with your Facebook friends and see what your friends have been up to for the past 24 hours.

At the top of the Facebook app, you'll see rounded profile pictures representing stories by your friends. If you tap on one, it'll open your friend's story with photos, videos, drawings and camera effects.

Essentially, Facebook is creating a second newsfeed for the mobile generation. It is swapping text and photo updates with visual communication because it feels more personal.

Once you get access to stories, you'll find a camera icon in the top left corner of the Facebook app. You can then take photos and pictures, add effects and drawings and share the result. After 24 hours, posts in your story disappear forever. Facebook is also adding new camera effects today.

Facebook is introducing Direct as well, a new inbox for direct messages. It is reminiscent of Snapchat's direct messages. This way, you can share photos and videos with one or multiple friends in particular, or reply to your friends' stories.

So Facebook has now added stories to all its main apps — Facebook, Messenger, Instagram and Whatsapp. While Instagram's stories have been a huge success, let's see if Facebook's user base also wants to embrace the story format.

Facebook Stories and Direct are rolling out today. You won't necessarily see stories straight away, but they're on their way.

Direct

Stories

Camera Effects

Coupland

Guardians

Hattie

Media Viewer

Minions

Power Rangers

Smurfs

Wonder Woman

 View Slideshow

Previous Next Exit