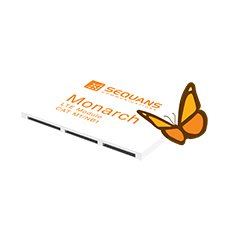 Copyright © 2016-2017 IoT Business News – edited by VisiQuest.
We cordially invite you to World eSIM Summit that will take place on 16-17 February in Prague, Czech Republic.
LTE for IoT chipmaker Sequans Communications S.A. announced that Fibocom Wireless, a leading global provider of wireless modules for the Internet of Things, has selected Sequans' Monarch LTE Cat M1/NB1 chip to design a new family of LTE-M modules.
The M210 module family will be Fibocom's first Cat M module in an ultra compact package that delivers high performance.
"We are convinced that LTE-M technology is a game-changer in the low-power, wide-area IoT market , and in adopting the technology of Sequans, the first to introduce a genuine LTE Cat M1/NB1 chip, our new M210 series modules will offer a powerful suite of solutions to IoT device makers ," said Jay He, VP Product Solutions, Fibocom.
"We are convinced that LTE-M technology is a game-changer in the low-power, wide-area IoT market, and in adopting the technology of Sequans, the first to introduce a genuine LTE Cat M1/NB1 chip, our new M210 series modules will offer a powerful suite of solutions to IoT device makers," said Jay He, VP Product Solutions, Fibocom.

@imoyse: Fibocom Selects Sequans for New Family of LTE-M Modules #iot #cloud
LTE for IoT chipmaker Sequans Communications S.A. announced that Fibocom Wireless, a leading global provider of wireless modules for the Internet of Things, has selected Sequans' Monarch LTE Cat M1/NB1 chip to design a new family of LTE-M modules.

The M210 module family will be Fibocom's first Cat M module in an ultra compact package that delivers high performance.

"We are convinced that LTE-M technology is a game-changer in the low-power, wide-area IoT market, and in adopting the technology of Sequans, the first to introduce a genuine LTE Cat M1/NB1 chip, our new M210 series modules will offer a powerful suite of solutions to IoT device makers," said Jay He, VP Product Solutions, Fibocom.

Sequans' Monarch is the world's first and most highly-optimized LTE-M (Cat M1) and NB-IoT (Cat NB1) capable chip. It is purpose-built for narrowband IoT applications, including sensors, wearables, and other low data, low power M2M and IoT devices. Monarch complies with the ultra-low-power and reduced complexity feature requirements of the 3GPP release 13 LTE Advanced Pro standard, defining narrowband, low data rate LTE technology for machine type communications.

Monarch provides full support for power saving mode (PSM) and extended discontinuous reception (eDRX) to enable the long battery life needed by many IoT use cases, and it provides the enhanced coverage modes defined in the standard that extend coverage for deep-indoor and remote deployments. Monarch comprises baseband, RF, power management, and RAM, all integrated into a single, tiny 6.5 x 8.5 mm package.

In addition, Monarch supports advanced features such as programmable RF filtering for global band support in a single SKU, and proprietary dynamic power management technology enabling battery life of 10+ years.

"We are working with Fibocom to enable them to serve their customers with a new family of power-efficient, cost-effective IoT modules," said Didier Dutronc, Sequans CMO. "Fibocom has a long history of innovation in the IoT industry, and their new M210 LTE-M module family promises to extend their offer globally with the latest and most highly-optimized LTE for IoT technology."

Jay He, said: