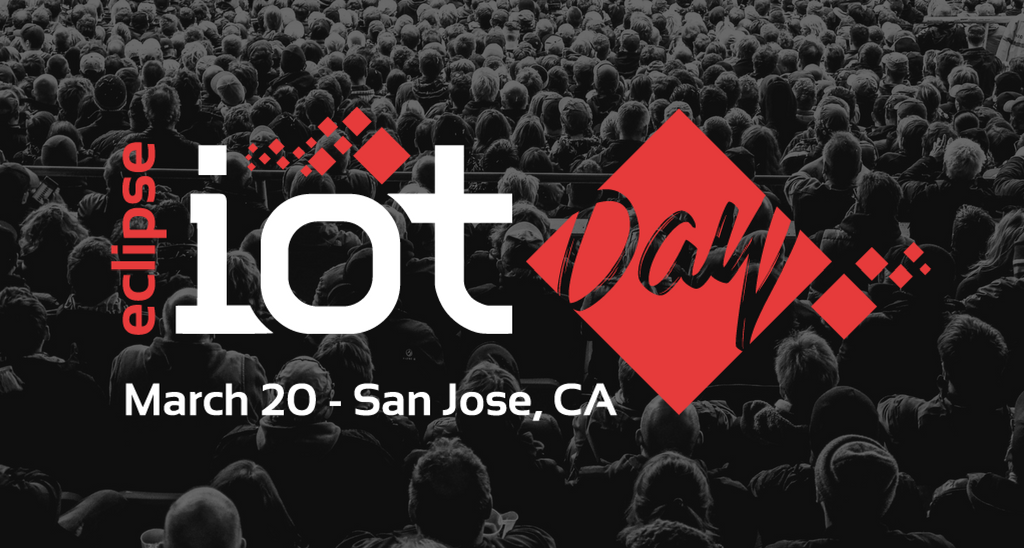 Eclipse IoT Day is a 1-day event organized by the Eclipse IoT Working Group , an Eclipse Foundation initiative.
Benjamin Cabé is a well know Evangelist in the IoT community, working for the Eclipse Foundation.
Ian is the Director of Marketing at the Eclipse Foundation and lead of the Eclipse IoT Working Group.
Roxanne has been part of the Eclipse IoT team since 2015, but has been at the Eclipse Foundation since 2012.
There are two pass types available; both passes give you access to the Eclipse IoT Day on March 20.
Eclipse IoT Day will take place on March 20, 2017 in San Jose California! Join us for an event packed with great speakers covering a wide range of IoT topics.

@EclipseFdn: Great news! The next Eclipse #IoT Day will be in #SanJose, CA on March 20, 2017.
The Eclipse IoT Day is all about open source and open standards for building IoT solutions. Attendees will learn about the software needed to build devices, gateways, and IoT cloud platforms.

The agenda is packed with great speakers covering a wide range of IoT topics, from Industry 4.0 and fog computing for devices at the edge, to smart homes and more! Eclipse IoT Day is a 1-day event organized by the Eclipse IoT Working Group, an Eclipse Foundation initiative.

Eclipse IoT Day is co-located with Devoxx US, which will take place March 21-23.

There are two pass types available; both passes give you access to the Eclipse IoT Day on March 20.

All-Access Pass to the Eclipse IoT Event on March 20, 2017 and to the Devoxx US conference from March 21-23.

Benjamin Cabé is a well know Evangelist in the IoT community, working for the Eclipse Foundation. He is also the cofounder of the Toulouse IoT Meetup.

Ian is the Director of Marketing at the Eclipse Foundation and lead of the Eclipse IoT Working Group.

Follow him on Twitter @IanSkerrett.

Director, Marketing

Roxanne has been part of the Eclipse IoT team since 2015, but has been at the Eclipse Foundation since 2012. She is the editor of the Eclipse Newsletter and has her hands in many other marketing activities for the Eclipse community and its events.

Follow her on Twitter @roxannejoncas.

Marketing Specialist