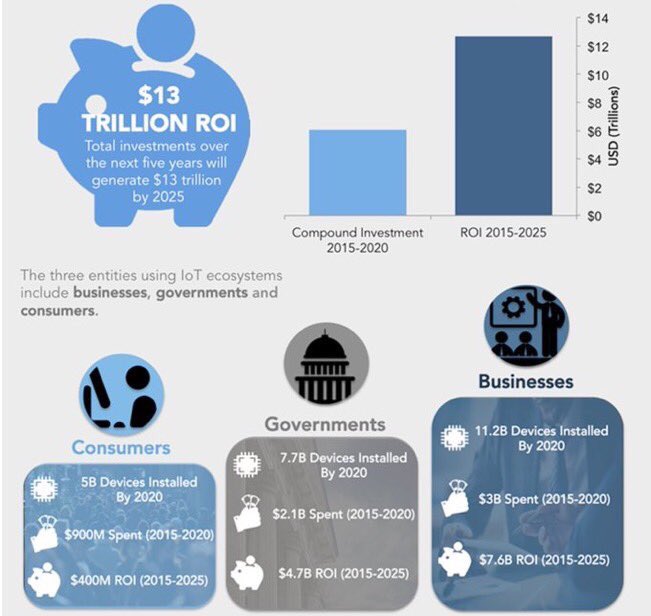 If you found this infographic to be valuable, you will LOVE our extensive IoT Ecosystem Research Report, which forecasts the future of the Internet of Things .
The Internet of Things: Examining How the IoT Will Affect The World is how you get the full story on the Internet of Things.
Distills the technological complexities of the Internet of Things into a single ecosystem
Analyzes how the IoT ecosystem is being using in a number of industries
Follow Digital Industry Insider and never miss an update!
Get ahead of the next industrial revolution, the Internet of Things. See forecasts and business opportunities for IoT that's set to explode by 2020.

@NearableTech: Here's How the #InternetOfThings Will Explode by 2020 #iot #ioe #wearables #digitalhealth
The future of industry is digital. GE and BI Studios have co-created Digital Industry Insider, dedicated to bringing you what you need to know about digital industrial news and events.

The Internet of Things (IoT) has been labeled as "the next Industrial Revolution" because of the way it will change the way people live, work, entertain, and travel, as well as how governments and businesses interact with the world.

In fact, the revolution is already starting. 

That brand new car that comes preloaded with a bunch of apps? Internet of Things. Those smart home devices that let you control the thermostat and play music with a few words? Internet of Things. That fitness tracker on your wrist that lets you tell your friends and family how your exercise is going? You get the point.

But this is just the beginning.

BI Intelligence, Business Insider's premium research service, has tracked the growth of the IoT for more than two years, specifically how consumers, businesses, and governments are using the IoT ecosystem. John Greenough and Jonathan Camhi of BII have compiled an exhaustive report that breaks down the entire IoT ecosystem and forecasts where the burgeoning IoT market is headed. And you can learn more and purchase the report here:  The Internet of Things Ecosystem Research Report

During the creation of this report, they put together the infographic below to show how the IoT ecosystem functions and to forecast how the IoT is poised to explode by 2020.

If you found this infographic to be valuable, you will LOVE our extensive IoT Ecosystem Research Report, which forecasts the future of the Internet of Things. 

In full, the report:

The Internet of Things: Examining How the IoT Will Affect The World is how you get the full story on the Internet of Things.

To get your copy of this invaluable guide to the IoT universe,access  our BI Intelligence Ultimate IoT Reports Bundle  and gain immediate access to this report PLUS over 30 other reports .  >> ACCESS THE BUNDLE & SAVE 89% TODAY