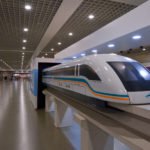 Hi-speed Aussie railroad could spark new smart cities
As part of the rail plan, proponents Consolidated Land and Rail Australia said it would create eight new smart cities along the magnetic levitation train route.
The Age suggests that such a strategy makes this plan more a real estate play than an investment in transport or smart cities.
Backers of a controversial $151 billion high-speed rail plan claim it will be funded by the creation of eight new Australian smart cities.
Backers of a controversial $151 billion high-speed rail plan claim it will be funded by the creation of eight new Australian smart cities.

@RWW: Hi-speed Aussie railroad could spark new smart cities:
#IoT #Tech
Backers of a controversial $151 billion high-speed rail plan claim it will be funded by the creation of eight new Australian smart cities.

As reported by Australian newspaper The Age, long-sought details are finally emerging about a proposed high-speed rail line between Sydney and Melbourne. The proposed railway would cut travel time from the current 12 hours to less than three hours.

This comes as politicians have voiced greater interest in supporting smart city plans in Australia.

As part of the rail plan, proponents Consolidated Land and Rail Australia said it would create eight new smart cities along the magnetic levitation train route. The company says its smart cities would be kitted out with such beneficial aspects as renewable energy, low water usage, high-speed internet and affordable homes.

However, the Age raised concerns that the rail line may be a grand unattainable dream. Skepticism is partly coming from the idea of building eight entirely new smart cities from scratch, which is a monumental task by any standards.

High-speed rail but no new taxes?

As well, the claim that the entire project would be completed with no taxpayer money whatsoever also raised eyebrows.

The project proponents said they would finance the railroad and smart cities through real estate speculation of the land along the proposed train route. The company predicts that the cheap farmland they've already optioned on the train line would skyrocket in value as soon as residential developments were built.

The Age suggests that such a strategy makes this plan more a real estate play than an investment in transport or smart cities.

While Consolidated's smart city-driven transport plan states that it will use not burden the public purse, an alternate high-speed rail plan already exists, which was developed at considerable public expense.

The $20 million federal study by AECOM was released in 2013. It projected that a high-speed rail line, which would cover the 1,750 km between Brisbane, Sydney, Canberra and Melbourne, would have cost $84 billion in 2012 dollars.

Considering the current economic conditions in Australia, such a hefty price tag essentially ensures that such a rail line would not get built using public resources.

In today's busy world, there is an emerging trend in quick and easy bill payment on the fly.  Consumer interest is growing at a rate that is driving firms to look for ways to create connected payment solutions. According to Tractica, wearable payment transaction amounts could grow to around $501 billion by 2020, with close… Read more »