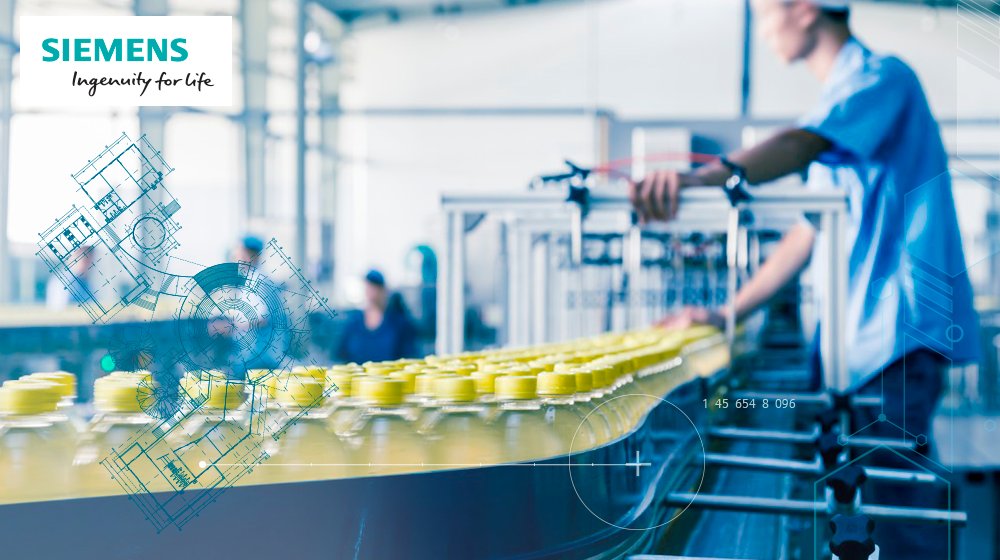 Greater flexibility and productivity for the soft drink industry Share this Story Email Facebook Twitter LinkedIn Google
The soft drink market is characterized by frequently changing and often short-lived trends.
To stay ahead of the competition over the long term, soft drink manufacturers must be able to rapidly adapt their production to new requirements at all times – and to always work efficiently and produce optimal quality.
Solutions tailored specifically to the requirements of soft drink production ensure reliable production processes and product quality that can be reproduced at all times.
The soft drink market is characterized by frequently changing trends. Manufacturers have to rapidly adapt their production to new requirements.

@siemensindustry: How to build specific IoT apps for soft drink production? Find out at #drinktec Munich 2017
This site uses cookies in order to improve your user experience and to provide content tailored specifically to your interests. Detailed information on the use of cookies on this website is provided in our Privacy Policy. You can also manage your preferences there. By using this website, you consent to the use of cookies.

It looks like you are using a browser that is not fully supported. Please note that there might be constraints on site display and usability. For the best experience we suggest that you download the newest version of a supported browser:

The soft drink market is characterized by frequently changing and often short-lived trends. To stay ahead of the competition over the long term, soft drink manufacturers must be able to rapidly adapt their production to new requirements at all times – and to always work efficiently and produce optimal quality. Digitalization gives them the flexibility they need to accomplish this while also boosting energy efficiency. Solutions tailored specifically to the requirements of soft drink production ensure reliable production processes and product quality that can be reproduced at all times.

The Digital Enterprise enables manufacturing companies to streamline and digitalize their entire business process, seamlessly integrating suppliers into the mix. They can begin at any point of their value chain, from product design to service, and can extend digitalization gradually, depending on their current needs.

The first phase involves digitally developing a new product. The SIMATIC IT R&D Suite flexibly supports the recipe and makes it possible to run simulations in order to virtually optimize recipes prior to production. At the same time, it checks whether the new product meets all regulations. The packaging and labels are also developed and tested virtually with Teamcenter NX.

The second phase begins with digital production planning based on our Line Designer planning tool for the layout of production lines. The plant is then tested and further optimized with our Tecnomatix Plant Design software to maximize throughput and availability.

Totally Integrated Automation Portal (TIA Portal) quickly, flexibly and efficiently handle the mechanical, electrical and automation design, as bottom up engineering approaches. Engineering efficiency can be increased for the production process as well as for bottling and packaging in the manufacturing part through integrated workflows.

In phase 4, SIMATIC IT acts as a bridge to the actual production process, which is optimized continuously. The universal database makes it possible to easily connect the ERP system to the automation technology and thus increase transparency through detailed reports and overviews.

Relevant KPIs for the production line and the process part are displayed and evaluated by specific apps on the basis of the cloud-based, open IoT operating system, MindSphere. This facilitates new services such as predictive, preventive and error clearance services that generate real added value through higher plant availability.

The first phase involves digitally developing a new product. The SIMATIC IT R&D Suite flexibly supports the recipe and makes it possible to run simulations in order to virtually optimize recipes prior to production. At the same time, it checks whether the new product meets all regulations. The packaging and labels are also developed and tested virtually with Teamcenter NX.

The second phase begins with digital production planning based on our Line Designer planning tool for the layout of production lines. The plant is then tested and further optimized with our Tecnomatix Plant Design software to maximize throughput and availability.

Totally Integrated Automation Portal (TIA Portal) quickly, flexibly and efficiently handle the mechanical, electrical and automation design, as bottom up engineering approaches. Engineering efficiency can be increased for the production process as well as for bottling and packaging in the manufacturing part through integrated workflows.

In phase 4, SIMATIC IT acts as a bridge to the actual production process, which is optimized continuously. The universal database makes it possible to easily connect the ERP system to the automation technology and thus increase transparency through detailed reports and overviews.

Relevant KPIs for the production line and the process part are displayed and evaluated by specific apps on the basis of the cloud-based, open IoT operating system, MindSphere. This facilitates new services such as predictive, preventive and error clearance services that generate real added value through higher plant availability.
Greater flexibility and productivity for the soft drink industry Share this Story Email Facebook Twitter LinkedIn Google