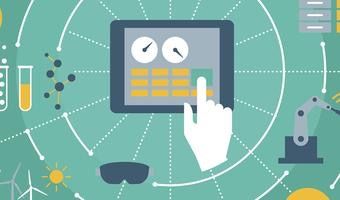 Internet of Things Can Drive Efficiency, Safety and Productivity — BizTech
They must also make sure security concerns are addressed, and that devices and networks are hardened and protected against malicious actors looking to hack IoT devices.
Simpson noted that IoT technologies work in combination with other systems.
In the event of a fire, for example, an office with IoT sensors deployed can have systems call the fire department; shut down elevators; take control of digital signage in the office to warn workers that it is not a drill; turn on video cameras to find workers and feed the images to the fire department; and lock or unlock doors to direct traffic out of the building.
Companies also need to think about the impact of IoT devices on their business and segregate IoT devices from the wider network by segmenting their networks.
Companies need to be proactive and develop IoT security plans before they bring connected devices into their IT infrastructure and networks.
A panel of IoT experts notes that businesses need to have a plan to integrate connected devices — and deal with the security issues they bring.

@evankirstel: Internet of Things Can Drive Efficiency, Safety and Productivity #IoT
The Internet of Things can help business be more productive and efficient, but organizations need to have a plan to integrate disparate technologies. They must also make sure security concerns are addressed, and that devices and networks are hardened and protected against malicious actors looking to hack IoT devices.

Those were some of the key takeaways from a panel on IoT in the workplace on Wednesday at the CDW Improving Productivity with Digital Transformation Summit in Colorado Springs, Colo.

Link Simpson, IoT/digital transformation practice lead at CDW, said that when computers are given centers and connected to other technologies in buildings, factories and the real world, "you totally change the game."

Steven Darrah, director of national solution services at Intel, said that IoT can be used to improve efficiency and profitability, drive safety and increase worker productivity.

Darrah pointed to a variety of potential use cases for IoT in workplaces: Retailers can use radio frequency identification tags to track inventory. Healthcare providers can use wearables to track the vital signs of seniors in long-term care and predict if a person is going to suffer a heart attack. Connected wearables can track users in the event of a disaster. "When we think about IoT, it's all around us," Darrah said. "It's not about IoT [technology], it's about what can you do with it. So that's what we're focused on."

Simpson noted that IoT technologies work in combination with other systems. In the event of a fire, for example, an office with IoT sensors deployed can have systems call the fire department; shut down elevators; take control of digital signage in the office to warn workers that it is not a drill; turn on video cameras to find workers and feed the images to the fire department; and lock or unlock doors to direct traffic out of the building.

"The if-then type of scenarios that can be put together from all of these different types of technologies really get interesting, and can change the worker experience, can change the guest experience, or however people interface with their environment in the buildings," Simpson said.

Darrah said IoT must add something to the user experience to make it worthwhile. For instance, location-based mobile order pickup needs to make it easier for users to check out of a store, he noted.

Which technologies do organizations need to get started on IoT deployments? For Simpson, it all starts with networking, and taking disparate systems and combining them on a core IP-based network. Other key components include pervasive Wi-Fi connectivity, real-time location systems, and cameras to capture video that supports everything from facial recognition to an abandoned package in a room.

However, Simpson noted that companies need to make sure that different technologies running on different protocols or programming languages can talk with each other. That can be accomplished, he said, using modern network gateway technologies.

"This is where IoT is really transitioning," Simpson said. "IoT is really no longer just about the data and the information you can pick up from sensors. It is about transforming your business. It is about digital transformation of the processes and everything else, and there's no reason not get started and put a plan in place to do it today."

Of course, with connected devices transmitting data comes security concerns. Brian Self, compliance subject matter expert at CDW, told the audience that IoT security has its roots in securing legacy devices. The device itself needs to be hardened and so does the data on — or coming off — the device.

"Throughout all of this, security has a way of being the guy who always says no," Self said, adding, "I think we should do more of the improv thing: 'Yes, and…' So, yes you can do it, with these caveats."

Those caveats are critical — that organizations think through the risks of IoT devices and develop security plans to address those risks. That is especially true with many IoT devices that are open, or that have default passwords that have not been changed and can be easily hacked.

Companies also need to think about the impact of IoT devices on their business and segregate IoT devices from the wider network by segmenting their networks. "If I have an impact where you have everything segregated away, it's isolated off, there's nothing else on the network, the impacts are going to be minimal," Self said. "So really, we need to balance risk and impact as well." He added that by segmenting the network and isolating IoT devices, if one does get hacked, it will not cause a ripple effect throughout the wider network.

Businesses also need to balance functionality with security, he said. Companies need to be proactive and develop IoT security plans before they bring connected devices into their IT infrastructure and networks.

Simpson added that if companies do get proactive, the IoT risk "can be managed."
Internet of Things Can Drive Efficiency, Safety and Productivity — BizTech