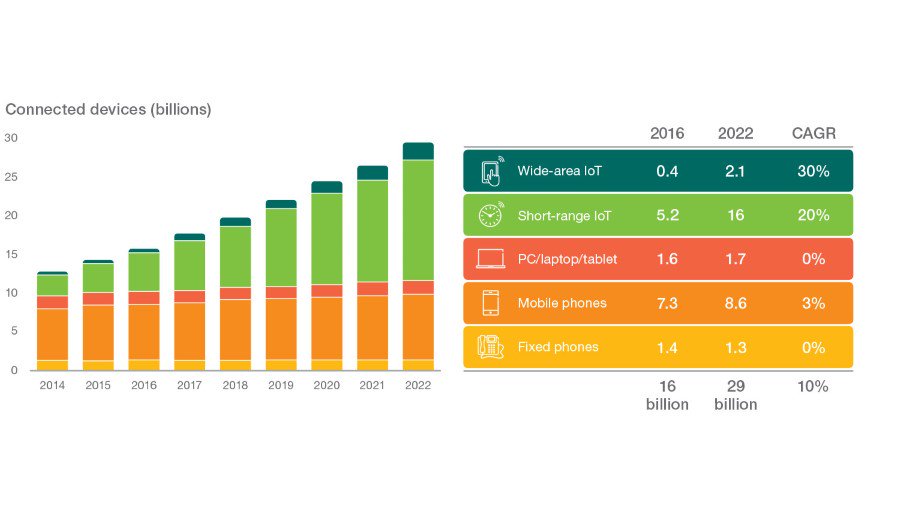 Internet of Things forecast – Ericsson
Between 2016 and 2022, IoT devices are expected to increase at a CAGR of 21 percent, driven by new use cases.
There will be around 400 million IoT devices with cellular connections at the end of 2016 and that number is projected to reach 1.5 billion in 2022, or around 70 percent of the wide-area category.
In the figure below illustrating all connected devices, IoT is divided into short-range and wide-area segments.
2 Connected devices connecting to a wide-area network through a common gateway
1 In our forecast a connected device is a physical object that has an IP stack, enabling two-way communication over a network interface.
Did you know there will be 18 billion IoT devices by 2022? Find out more about the future of the Internet of Things with the Ericsson Mobility Report.

@AerisM2M: Internet of Things forecast – #Ericsson #IoT @AerisM2M #M2M
Success for operators is built on a flexible and efficient infrastructure that enables millions of different use cases. Our network solutions help operators build offerings towards new value chains, support millions of different services and devices and work perfectly – where ever people want to connect.

Transformative IT enables the power of "Yes," allowing operators and enterprises to thrive in the Networked Society.

The Media industry is undergoing a period of unprecedented disruptive transformation. At the center of this new world is the consumer, who requires access to movies, TV and games from any device, at anytime. Our cutting-edge media solutions help providers delight customers and stay ahead of the game.

The front-runners in industries like Utilities, Transport, Public Safety, Commercial & Industrial Real Estate and Mobile Financial Services, are starting to shift information and communications technologies from the backroom to the boardroom, from support act to main stage.

An extraordinary revolution is transforming our world. Real-time connectivity – from connected cars to personal wearables to smart grid technology – is fundamentally changing the way we innovate, collaborate, produce, govern and live sustainably.

Around 29 billion connected devices1 are forecast by 2022, of which around 18 billion will be related to IoT.

In 2018, mobile phones are expected to be surpassed in numbers by IoT devices, which include connected cars, machines, meters, wearables and other consumer electronics. Between 2016 and 2022, IoT devices are expected to increase at a CAGR of 21 percent, driven by new use cases.

In the figure below illustrating all connected devices, IoT is divided into short-range and wide-area segments.

The short-range segment consists of devices connected by unlicensed radio with a typical range of up to around 100 meters, such as Wi-Fi, Bluetooth and ZigBee. This category also includes devices connected over fixed line local area connections.

The wide-area category consists of devices using cellular connections (3GPP-based with some CDMA), as well as unlicensed low-power technologies, such as Sigfox, LoRa and Ingenu.

There will be around 400 million IoT devices with cellular connections at the end of 2016 and that number is projected to reach 1.5 billion in 2022, or around 70 percent of the wide-area category. This growth is due to increased industry focus and 3GPP standardization of cellular IoT technologies. Cellular IoT connections benefit from enhancements in provisioning, device management, service enablement and security.

Within the wide-area IoT segment, two distinct sub-segments with different requirements have emerged: massive and critical applications.

Massive IoT connections are characterized by high connection volumes and small data traffic volumes, low cost devices and low energy consumption. Many things will be connected through capillary networks.2

At the other end of the scale, critical IoT connections place very different demands on the network: ultra-reliability, availability, low latency and high data throughput.

There are, however, many use cases between these two extremes, which today rely on 2G, 3G or 4G connectivity.

Today, LTE's share of cellular IoT devices is around 5 percent. Declining modem costs, evolving LTE functionality and 5G capabilities are all expected to extend the range of applications for critical IoT deployments. 

1 In our forecast a connected device is a physical object that has an IP stack, enabling two-way communication over a network interface. Traditional landline phones are included for legacy reasons

2 Connected devices connecting to a wide-area network through a common gateway