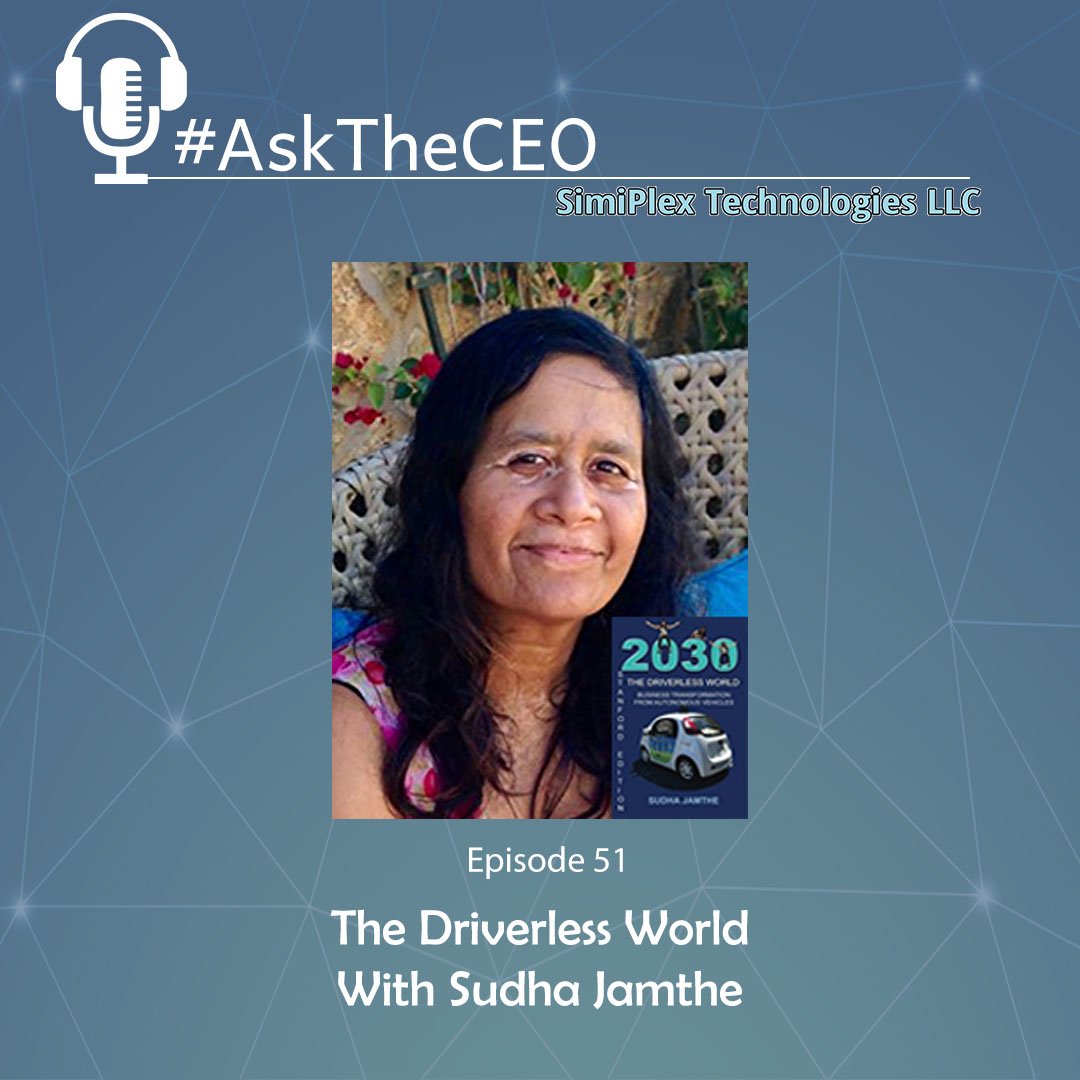 #AskTheCEO Episode 51: The Driverless World With Sudha Jamthe by Simiplex Technologies
Sudha Jamthe is the CEO of IoTDisruptions.com and a globally recognized entrepreneurial, thought leader at the junction of IoT and AI.
Contact Sudha: Web: IoTDisruptions.com Twitter: @sujamthe YouTube: http://bit.ly/2yh1Epp Contact Avrohom: Web: http://www.simiplex.com Email: avrohomg@simiplex.com Twitter: @avrohomg Instagram: @avrohomg Phone: +1 (845) 418-5340 Phone: +972-72-224-4449 I help companies increase their revenues and market share by leveraging our human to machine (H2M) communications platform to make chatting with smart devices as easy…
For example, with our intelligent IoT messaging, Smart Kitchen Commerce users would be able to shop from anywhere on their favorite communications platforms — including SMS, email, social media, messaging, and chat channels — without having to download a separate app!
I provide you with the latest state of the art technology so that you can remain ahead of the competition and focus on doing what you do best, which is running your business, without worrying about your IoT devices.
Half-day and full-day sessions are available, customized to your specific needs to help you to achieve your business' objectives with the IoT best practices for the smart home, smart enterprise, and smart city solutions being implemented by top global companies and government agencies right now in Singapore, Dubai, and Germany….
Stream #AskTheCEO Episode 51: The Driverless World With Sudha Jamthe by Simiplex Technologies from desktop or your mobile device

@avrohomg: Listen to #AskTheCEO Ep51 #AutonomousVehicles #AI #IoT with @sujamthe on #Soundcloud
2030, The Driverless World, with Sudha Jamthe. Sudha Jamthe is the CEO of IoTDisruptions.com and a globally recognized entrepreneurial, thought leader at the junction of IoT and AI. She brings twenty years of digital transformation experience from building organizations, shaping new technology ecosystems and mentoring leaders at eBay, PayPal, Harcourt, and GTE. She enjoys building partnerships at the cross-section of industry, academia and emerging entrepreneur ecosystems. She advises corporate and city leaders on regional economic development using technology with a focus on innovation gaps and social equality. She is the author of '2030 The Driverless World' about the junction of Autonomous cars and Cognitive IoT. She is the author of three IoT books, 'IoT Disruptions,' 'IoT Disruptions 2020' and 'The Internet of Things Business Primer' and taught the first IoT Business course at Stanford Continuing Ed School. She is the producer of 'The IoT Show' on YouTube. Sudha is a champion for STEM programs and 'Girls Who Code,' and hosts mentor programs for kids. Contact Sudha: Web: IoTDisruptions.com Twitter: @sujamthe YouTube: http://bit.ly/2yh1Epp Contact Avrohom: Web: http://www.simiplex.com Email: avrohomg@simiplex.com Twitter: @avrohomg Instagram: @avrohomg Phone: +1 (845) 418-5340 Phone: +972-72-224-4449 I help companies increase their revenues and market share by leveraging our human to machine (H2M) communications platform to make chatting with smart devices as easy as chatting with friends. For example, with our intelligent IoT messaging, Smart Kitchen Commerce users would be able to shop from anywhere on their favorite communications platforms — including SMS, email, social media, messaging, and chat…
#AskTheCEO Episode 51: The Driverless World With Sudha Jamthe by Simiplex Technologies