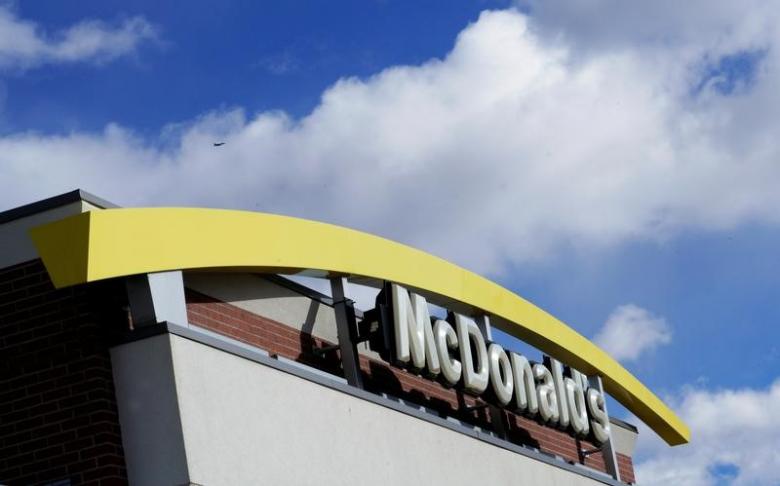 McDonald's U.S. turnaround shifts to technology, speedier service
CHICAGO McDonald's Corp (MCD.N) on Wednesday announced a push to embrace apps aimed at speeding up service at drive-thrus, which account for about 70 percent of its U.S. business, as the fast-food chain looks to woo back diners.The company's U.S. restaurants have suffered four straight years of traffic declines, resulting in 500 million lost transactions since 2012.
As part of the push for greater convenience in the United States, which contributes more operating income than any other global market, McDonald's will also offer curbside pickup of orders to reduce wait time at drive-thrus.
McDonald's will start to roll out "mobile order and pay" in the fourth quarter and have it available at all of its roughly 14,000 U.S. restaurants by year-end, Chris Kempczinski, president of McDonald's USA, said at the company's investor meeting in Chicago on Wednesday.Customers who use the app will have the option to pick up orders at drive-thru windows or in designated curbside delivery parking spots, where a restaurant worker will hand off orders.
Service times at McDonald's have recently slowed, and the new initiatives are expected to cut wait times, shorten drive-thru lines and prevent customers from skipping visits due to long delays, said Jim Sappington, McDonald's executive vice president of operations, digital and technology.
McDonald's has lagged other fast-food restaurants such as Domino's Pizza Inc (DPZ.N), Panera Bread Co (PNRA.O) and Starbucks Corp (SBUX.O) in its use of digital technology.The goal is "progress over perfection," said Sappington, who added that McDonald's will also debut "mobile order and pay" in about 6,000 international locations by year-end as it works to add a loyalty program and customization.
McDonald's Corp (MCD.N) on Wednesday announced a push to embrace apps aimed at speeding up service at drive-thrus, which account for about 70 percent of its U.S. business, as the fast-food chain looks to woo back diners.

@TamaraMcCleary: McDonald's U.S. turnaround shifts to #technology, speedier service #mobile #robotics #IoT
The company's U.S. restaurants have suffered four straight years of traffic declines, resulting in 500 million lost transactions since 2012. As part of the push for greater convenience in the United States, which contributes more operating income than any other global market, McDonald's will also offer curbside pickup of orders to reduce wait time at drive-thrus.

McDonald's will start to roll out "mobile order and pay" in the fourth quarter and have it available at all of its roughly 14,000 U.S. restaurants by year-end, Chris Kempczinski, president of McDonald's USA, said at the company's investor meeting in Chicago on Wednesday.

Customers who use the app will have the option to pick up orders at drive-thru windows or in designated curbside delivery parking spots, where a restaurant worker will hand off orders. Customers could also choose to pick up orders at restaurant counters.

Service times at McDonald's have recently slowed, and the new initiatives are expected to cut wait times, shorten drive-thru lines and prevent customers from skipping visits due to long delays, said Jim Sappington, McDonald's executive vice president of operations, digital and technology.

McDonald's has lagged other fast-food restaurants such as Domino's Pizza Inc (DPZ.N), Panera Bread Co (PNRA.O) and Starbucks Corp (SBUX.O) in its use of digital technology.

The goal is "progress over perfection," said Sappington, who added that McDonald's will also debut "mobile order and pay" in about 6,000 international locations by year-end as it works to add a loyalty program and customization.

Mobile ordering should reduce errors and significantly cut the time it takes to handle large, complex orders. The new initiatives could shift some 20 percent of drive-thru orders to curbside delivery and another 20 percent to drive-thru pickup only, executives said.

"Decongesting" the drive-thru in such a way could result in 20 more cars per hour and incremental sales, said Chief Executive Steve Easterbrook. McDonald's also plans to expand delivery in the United States, which it is testing with UberEATS in Florida, and begin trying it in other countries.

McDonald's said it would use a part of the savings from refranchising restaurants outside the United States to get to 2,500 "Experience of the Future" restaurant revamps by the end of 2017. Those restaurants include self-service kiosks, table service and reconfigured kitchens designed to slash the distance a restaurant's workers walk on a given day by as much as seven miles.

Shares of McDonald's closed up 1.1 percent at $129.05 after hitting a nine-month high of $129.99.

(Reporting by Lisa Baertlein in Chicago; Additional reporting by Sruthi Ramakrishnan in Bengaluru; Editing by Leslie Adler and Jonathan Oatis)

Reuters is the news and media division of Thomson Reuters. Thomson Reuters is the world's largest international multimedia news agency, providing investing news, world news, business news, technology news, headline news, small business news, news alerts, personal finance, stock market, and mutual funds information available on Reuters.com, video, mobile, and interactive television platforms. Learn more about Thomson Reuters products:
McDonald's U.S. turnaround shifts to technology, speedier service