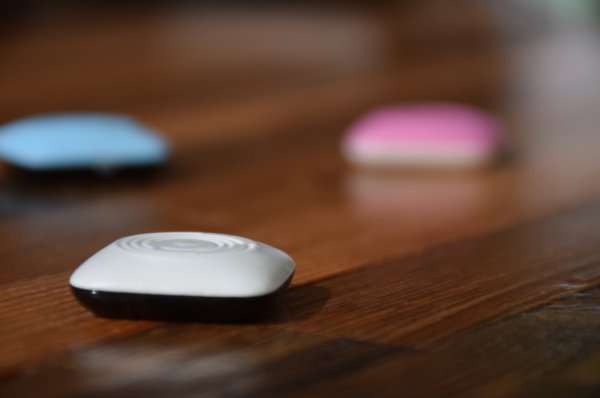 Never lose your valuables again with this miniature GPS locator
Never lose your valuables again with this miniature GPS locatorPosted on February 22, 2017 in Connected Devices Keeping a tab on kids, pets, and valuables is a difficult task, so a new Indiegogo has built a miniature GPS tracker to at least help find people or items once they've disappeared.Ping, the "world's smallest" GPS tracker, is able to send a signal from the U.S., Mexico and Canada to the owner's smartphone.
It has a strap that can be purchased alongside the GPS tracker, which makes it even more attachable and versatile.Inside Ping is a GPS module, Bluetooth, and 3G cellular module.
Bluetooth is used for short distance, while the 3G cellular lets owners find things that are miles away.
Users pay $36 per year for the service, with an additional $3 per month per device.It is one of the first GPS trackers to incorporate global tracking.
Ping is also waterproof, so even valuables underwater can be found.Ping Overview from Joshua Lippiner on Vimeo.Ping is available on Indiegogo for $100, which comes with one free year of 3G cellular service.
Keeping a tab on kids, pets, and valuables is a difficult task, so a new Indiegogo has built a miniature GPS tracker to at least help find people or items once they've disappeared.

@RWW: Never lose your valuables again with this miniature GPS locator:
#IoT #News #smartdevices
Keeping a tab on kids, pets, and valuables is a difficult task, so a new Indiegogo has built a miniature GPS tracker to at least help find people or items once they've disappeared.

Ping, the "world's smallest" GPS tracker, is able to send a signal from the U.S., Mexico and Canada to the owner's smartphone. It will provide a pinpoint location of where the thing is and also let kids send a 'check-in' to their parents or a distress ping if in trouble.

See Also: Echo Labs debuts a wearable medical lab on your wrist

The creators claim that Ping is for "kids, pets, bikes, drones, luggage or anything important that moves". It has a strap that can be purchased alongside the GPS tracker, which makes it even more attachable and versatile.

Inside Ping is a GPS module, Bluetooth, and 3G cellular module. Bluetooth is used for short distance, while the 3G cellular lets owners find things that are miles away. Users pay $36 per year for the service, with an additional $3 per month per device.

It is one of the first GPS trackers to incorporate global tracking. Most use Bluetooth only, and have a range of a few meters. Ping is also waterproof, so even valuables underwater can be found.

Ping Overview from Joshua Lippiner on Vimeo.

Ping is available on Indiegogo for $100, which comes with one free year of 3G cellular service. Customers can purchase additional trackers at a lower cost-per-tracker, two cost $182 and a five-pack comes to $423.

The Internet of Things (IoT) has changed the way we see the world in a pretty dramatic way. When you take an everyday object like a light bulb and connect it to the Internet, a lot of interesting things can happen. Crowdfunding has made it possible for us to see virtually any and all of… Read more »

There is a lot of preparation that goes into Thanksgiving Day, and oftentimes the amount of focus involved in cooking takes away from the special time with family and friends.  Imagine getting to spend more time relaxing, and less time checking on the turkey. There is more to be thankful for this year, with GE… Read more »
Never lose your valuables again with this miniature GPS locator