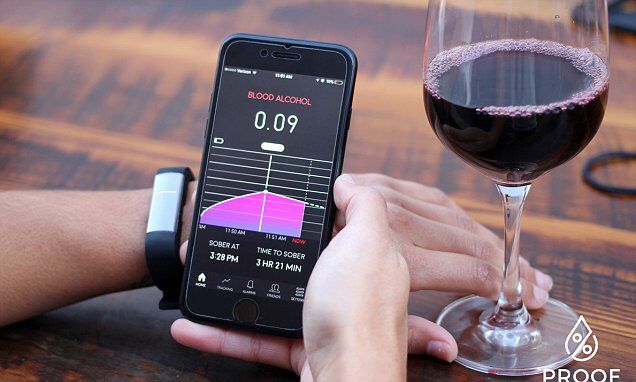 A gadget for worried mothers: Wristband monitors your blood alcohol level and shares it with your friends and family
But Proof, a new wristband developed by California company Milo Sensors, connects to an app that tell you how much alcohol is in your system.
The enzyme-based electrochemical sensor converts alcohol into an electrical current, and is able to accurately display your blood alcohol content level using its accompanying smart phone app.
If the alcohol level in the user's system is too high, Proof can predict the time when they can drive safely, for example, and even send an alert when their body hits a set blood alcohol level.
Users can log in pre-set alcohol limits to ensure the drinking does not get out of control.
'Milo's wrist-worn biometric sensor was developed to provide an accurate and affordable means for continuously tracking blood alcohol level without needing to blow into a breathalyser or take a blood test,' says the company.
Proof, a new wristband developed by California company Milo Sensors monitors your blood alcohol content level and accurately displays it using an accompanying smart phone app.

@evankirstel: New wristband monitors blood alcohol level and displays it in an app #IoT #CES2017
By David Gardner In Los Angeles and Abigail Beall For Mailonline

Published: 12:20 EDT, 6 January 2017 | Updated: 13:02 EDT, 6 January 2017
A gadget for worried mothers: Wristband monitors your blood alcohol level and shares it with your friends and family