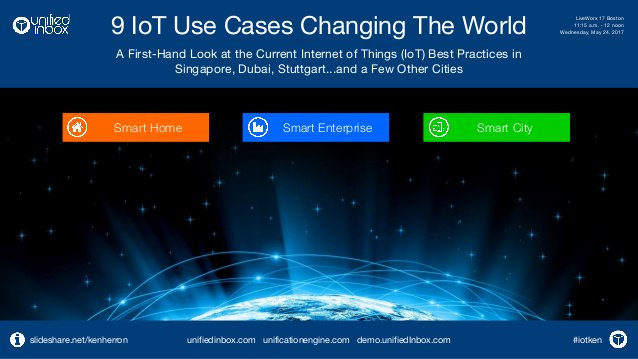 Nine IoT Use Cases Changing the World
Every new device now seems to be "smart."
Commercial or consumer; factory, home, or street corner; equipment, machines, appliances, electronics, databases, and software are all now connected to the internet.
Whether you now have, will soon have, or aren't quite convinced you want to have smart devices, this session is designed to help you the decision-maker become competent, confident, and comfortable when creating or overseeing the creation of the IoT strategy for your enterprise, city, or country.
Ken will focus on the three most important, and fastest-growing areas of IoT: smart homes, smart enterprises, and smart cities.
IoT use cases include: water, power, waste, lighting, healthcare, military, transportation, customs and immigration, warehousing, retail, entertainment, consumer appliances and electronics, and manufacturing equipment.
Every new device now seems to be "smart." Commercial or consumer; factory, home, or street corner; equipment, machines, appliances, electronics, databases, and…

@IOTSWC: Nine #IoT Use Cases Changing the World by @KenHerron
Every new device now seems to be "smart." Commercial or consumer; factory, home, or street corner; equipment, machines, appliances, electronics, databases, and software are all now connected to the internet. Whether you now have, will soon have, or aren't quite convinced you want to have smart devices, this session is designed to help you the decision-maker become competent, confident, and comfortable when creating or overseeing the creation of the IoT strategy for your enterprise, city, or country. Ken will focus on the three most important, and fastest-growing areas of IoT: smart homes, smart enterprises, and smart cities. He will share specific use cases from Singapore, Dubai, and Stuttgart to give you the actionable insights you need to chart the course for your organization. IoT use cases include: water, power, waste, lighting, healthcare, military, transportation, customs and immigration, warehousing, retail, entertainment, consumer appliances and electronics, and manufacturing equipment.

9. Dubai, UAE #iotken Smart camera SmartCity

14. Boston, Mass #iotken It's not about the technology It's about the relationship GlobalSmartHome SmartHome SmartCity SmartEnterprise

15. Boston, Mass #iotken Ask me

18. PLATFORM UnificationEngine™ What does UIB do? UIB's intelligent IoT messaging platform provides H2M communications in natural language for smart homes, appliances, sensors, etc. INTEGRATIONS Chatbots Customized, integrated and cognitive chatbots for banks, insurance, retail, cinemas, schools, supply chain and other industries. for text and voice (extending range to anywhere, without needing separate devices or apps!). DEVELOPER APIs Unified Messaging Connects to 20+ global communications channels: SMS, Email, Social media, Messaging apps, Chat apps, Custom channels… Coming soon to the IBM Marketplace via . Messaging (Media) IoT (Infrastructure) AI (Technology)