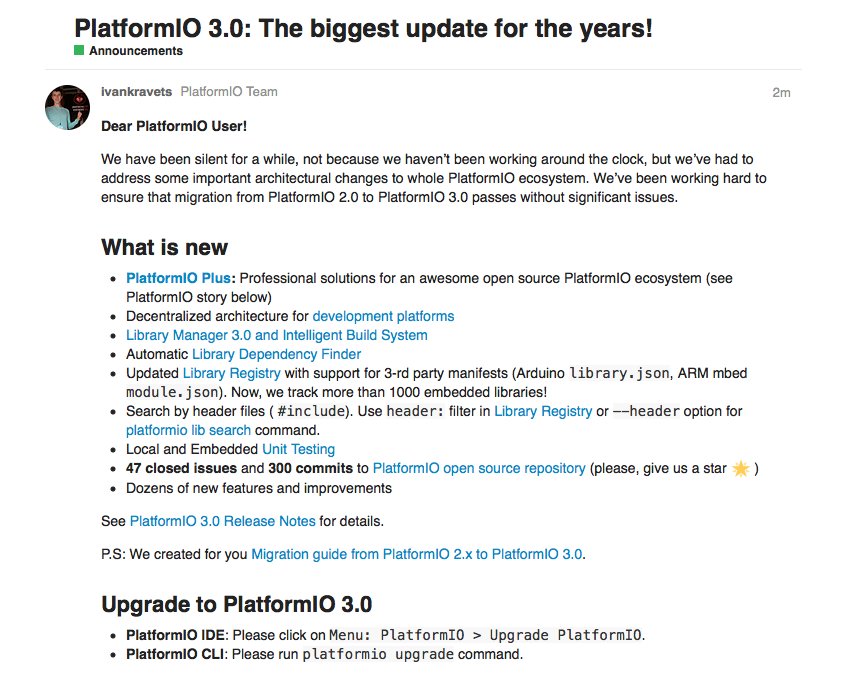 PlatformIO 3.0: The biggest update for the years!
Donation form also does not work today.
We understand that the only single way out of the situation is to create own professional solutions for the business based on PlatformIO.
It supported 3 development platforms, 2 frameworks, and a few embedded boards.
It will allow us to keep active development of PlatformIO Open Source and propose for embedded world new professional standards and awesome instruments for IoT development.
We contacted with multiple vendors and companies related to embedded to help us keeping PlatformIO open source, free and alive.
Dear PlatformIO User!
We have been silent for a while, not because we haven't been working around the clock, but we've had to address some important architectural changes to whole PlatformIO ecosystem. We've been worki…

@PlatformIO_Org: 🎉 PlatformIO 3.0: The biggest update for the years! 🎉
🔗
🚀
🔗 #IoT
PlatformIO 3.0: The biggest update for the years! – Announcements – PlatformIO Community

PlatformIO

Get Started

IDE

Development

Libraries

Docs

Community

Plus

About

About Us

Contact Us

Donate

What is PlatformIO?

Who uses?

Articles

Release Notes

Development

PlatformIO Plus

PlatformIO IDE

Platforms / Frameworks

Embedded Boards

Libraries

Continuous Integration

IDE Integration

Support

Ask Community

Report a Bug

User Guide

FAQs

Documentation

Professional Support

Community

Forums

GitHub

Bintray

Gitter

Blog

Twitter

Facebook

Hackaday

2014-2016 Ivan Kravets. All rights reserved

·

Licensed under the Apache License, Version 2.0