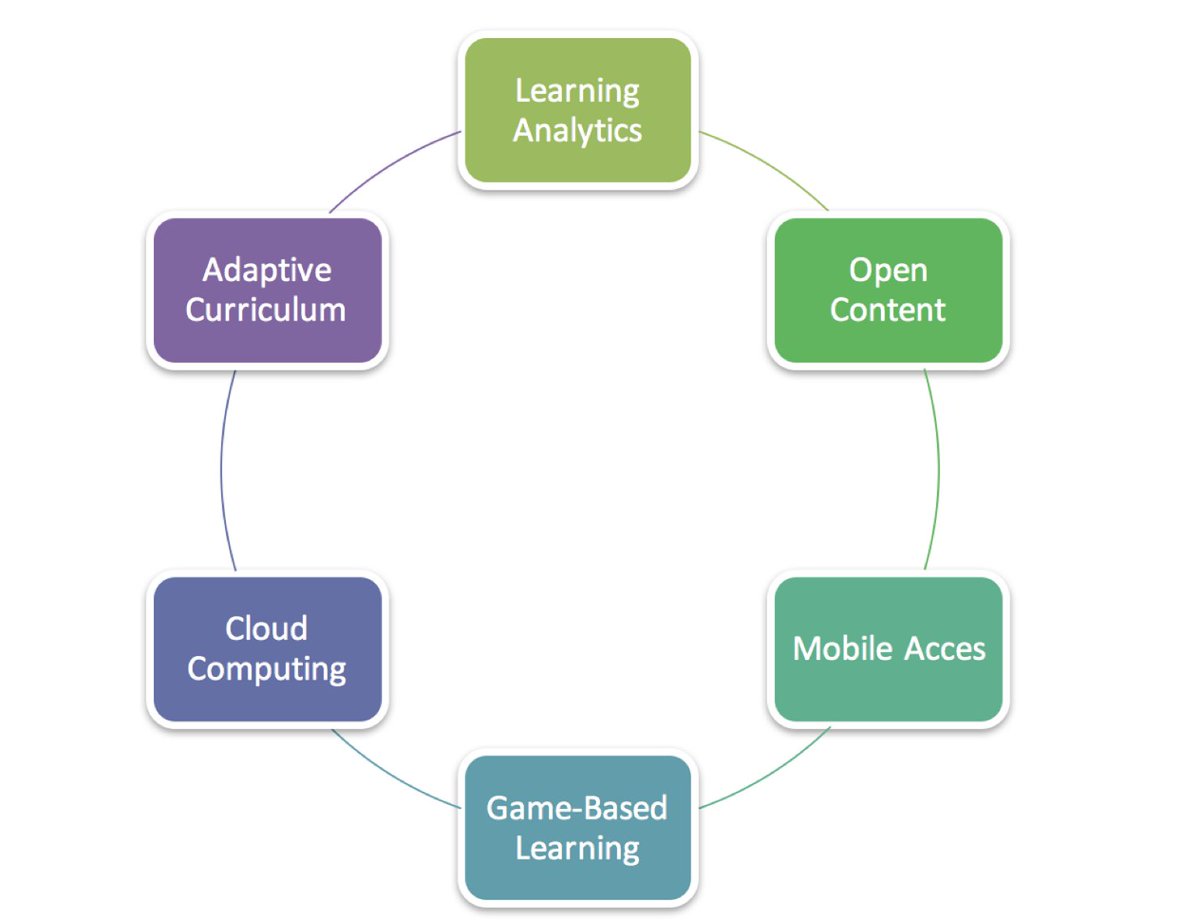 Preparing for The Fourth Industrial Revolution: How Digital Technology is Advancing Curricula… – Inspired Ideas – Medium
SRA Open Court Reading has decades of research behind the content in the program, and looks to extend the successful learning strategies into new technologies.
· Pedagogy-Driven Content and Tools: A proven pedagogy is invaluable to ensure learning success for all content, but some resources rely even more heavily on pedagogy than others.
As we move forward in this digital evolution of the classroom, we have already witnessed technology, especially Web-based content and tools, disrupt nearly every aspect of the world around us.
· Content-Driven Content and Tools: Often, there is a need to present a specific set of content items to learners.
· Technology-Driven Content and Tools: New technology and tools often lead to new learning materials that take advantage of these tools.
By: Brad Drewyor, McGraw-Hill Education

@simonlporter: Preparing for The Fourth Industrial Revolution: How Digital Technology is Helping #iot
By: Brad Drewyor, McGraw-Hill Education

As parents, teachers, authors, researchers, educational technologists, and publishers, we are continually faced with the question of how to most effectively and efficiently prepare learners for the world around and ahead of them. Increasing attention is focused on what has been termed the Fourth Industrial Revolution (World Economic Forum, 2016), which addresses the technology-driven global transition taking place in industries around the world and what that means for employees of the future.

At the same time, educational technologies and instructional resources for PreK-12 literacy as well as other subjects have evolved to address the gap between current learning pedagogies and tools and what is needed to support students as they enter the new workplace. Even so, the goal remains the same: to get the most out of each learning opportunity for each learner. This has resulted in greater integration of digital content and digital tools across all content areas. For me, the question is: how do we approach content development and delivery in this new paradigm?

Classrooms that Work for the Future

As we move forward in this digital evolution of the classroom, we have already witnessed technology, especially Web-based content and tools, disrupt nearly every aspect of the world around us. Vastly improved technology, combined with greater access to digital tools inside and outside the classroom, has set the stage for more tech-savvy teachers, students, and parents to become true partners in learning. As digital content and personalized learning become increasingly connected, the education community continues to adopt new technologies that can be combined to result in more engaging and effective instruction for literacy, numeracy and other subjects. The winners in this new educational landscape will be students who have access to these new tools and pedagogies applied in ways that prepare them to apply innovative methods, skills and tools students can continue to call on as they transition to the workplace.

Digitizing the Instructional Framework

In order for the classroom of the future to be successful, there needs to be an instructional framework that underpins how content is created and delivered. It seems safe to say, at this point, that teachers understand the need to adapt their teaching to meet the changing needs of their students — , especially when it comes to the emergence of new learning tools. With the vast array of potential technologies available combined with the intense pressures teachers face in today's classrooms, it is often challenging for teachers to find the pockets of time necessary to tie new delivery methods to proven classroom strategies and instructional methodology.

As developers of materials for the classroom, we have the opportunity to support teachers as they become more comfortable with digital learning and teaching tools, helping them to transition to the newly available tool sets designed to foster student success. The concept of the convergence of technological, pedagogical, and content knowledge contexts (TPACK) in the classroom is one that should feel familiar to any teacher, author, or instructional designer. As pedagogy catches up with each new digital technology and content knowledge moves to new delivery platforms and channels, it is essential to make sure quality instruction wins out, delivered via appropriate implementation of technology in the classroom. The thoughtful connection between the three has been outlined very well by Mishra and Kohler (2006), as depicted below.

Applying TPACK to Educational Technology in 3 Ways

Aligning all the elements of TPACK is essential in the creation of successful learning resources, but the three different knowledge points can be the key driver to the resource or tool being used. Some materials are completely driven by pedagogy, others by available technology, and yet others by a need to teach a certain content base. Finding the right balance is the hallmark of a great resource or tool in this new paradigm.

· Technology-Driven Content and Tools: New technology and tools often lead to new learning materials that take advantage of these tools. This includes incorporating virtual reality into the classroom, simplifying content management and access through a learning management system such as Engrade, providing interactive reading materials employing game mechanics like Reading Laboratory 2.0, or offering other technology-driven resources and tools.

· Pedagogy-Driven Content and Tools: A proven pedagogy is invaluable to ensure learning success for all content, but some resources rely even more heavily on pedagogy than others. For these materials, it is essential to ensure that appropriate accommodations are implemented and researched, and considerate technology is used to support the pedagogy. SRA Open Court Reading has decades of research behind the content in the program, and looks to extend the successful learning strategies into new technologies. LearnSmart and ALEKS offer proven adaptive learning tools driven by well-researched instructional implementation of web technologies. WonderWorks intervention is another example of a pedagogy-driven resource with a proven technology foundation.

· Content-Driven Content and Tools: Often, there is a need to present a specific set of content items to learners. Again, pedagogy and technology are essential to building a successful set of resources and tools, but delivering a broad set of content using a consistent, digital-first approach, is the goal of this type of resource. A learning system like Thrive fits this definition well, as it provides math, English language arts, and other content in a consistent manner. At the same time, a learning program that focuses on a single content area, such as Wonders Reading also can meet this need. Wonders has a proven pedagogical foundation, but also offers comprehensive reading and language arts content through a variety of technologies to meet the broadest possible array of learners and learning styles.

Mishra & Koehler (2006). Technological pedagogical content knowledge: A framework for teacher knowledge. Teachers College Record, 108(6), 1017–1054.

World Economic Forum. (2016). The future of jobs: employment, skills and workforce strategy for the fourth industrial revolution. World Economic Forum, Geneva, Switzerland.

Authored by: Brad Drewyor, Senior Product Manager, McGraw-Hill Education
Preparing for The Fourth Industrial Revolution: How Digital Technology is Advancing Curricula… – Inspired Ideas – Medium