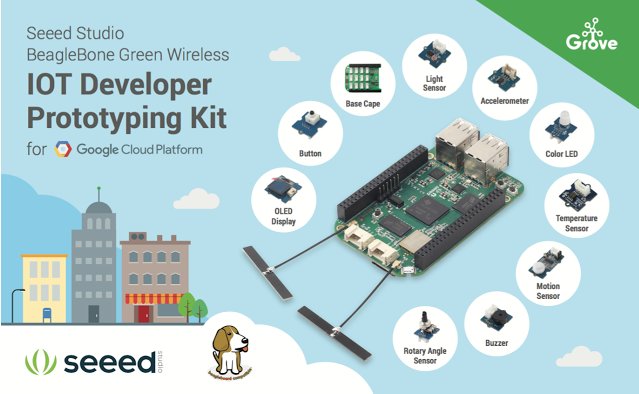 Google Cloud Platform Blog: Prototyping kit gets your IoT app on Google Cloud Platform, fast
With the BeagleBone Green Wireless IoT Developer prototyping kit, you'll be able to get data from the world around you directly onto GCP within minutes.
The Internet of Things provides businesses with the opportunity to connect their IT infrastructure beyond the datacenter to an ever-increasing number of sensors and actuators that can convert analog information to digital data, and we believe Google Cloud Platform (GCP) is a great landing place for that valuable information.
Whether it's handling event ingest in Google Cloud Pub/Sub , processing the streams of data from multiple devices with Google Cloud Dataflow , storing time-series data in Google Bigtable , or asking questions across IoT and non-IoT data with Google BigQuery , GCP's data and analytics products can help you manage that IoT data and turn it into something relevant.
Announcement Partners Technical Customers Compute Networking Storage Big Data & Analytics Developers Compute Engine Cloud Storage Cloud SQL Cloud BigTable 1
That's why we've teamed up with Seeed Studio and Beagleboard.org to bring you the BeagleBone Green Wireless IoT Developer prototyping kit for GCP.

@googlecloud: Prototyping your #IoT project just got easier with this @seeedstudio & @beagleboardorg kit:
api 2
Google Cloud Platform Blog: Prototyping kit gets your IoT app on Google Cloud Platform, fast