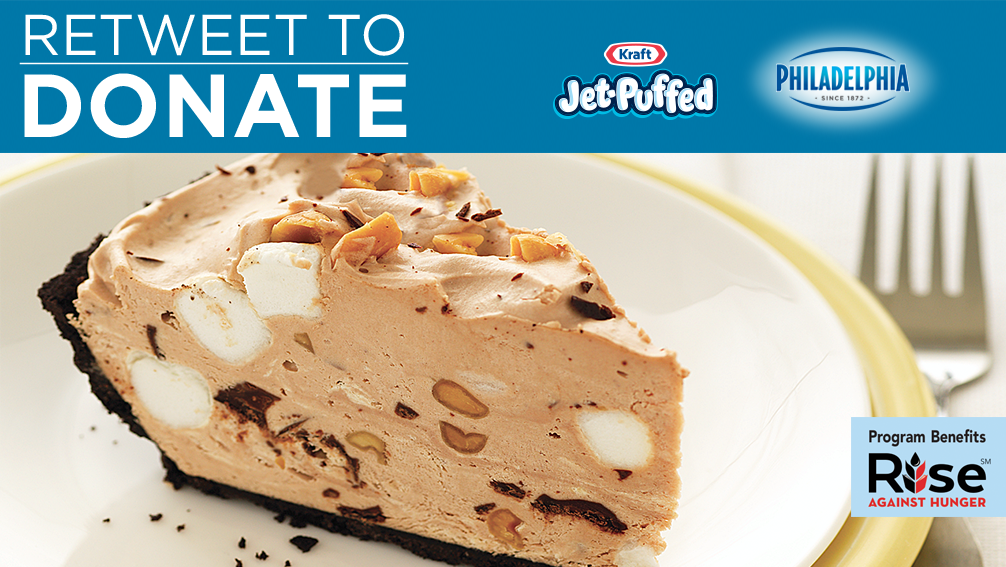 Rocky Road No-Bake Cheesecake
I used a plain grahmn cracker crust (what I had on hand), added a few extra peanuts and marshmellows, and set out a bottle of chocolate sauce and let people put how much of that they wanted to on it.
used a regular graham cracker crust, no peanuts, no marshmallows (i forgot to put them in), and mixed mini-reeses pieces and the chocolate pieces in with the cheesecake mixture.
I made this for a party, and used extra sugar, extra chocolate, and toasted almond slivers instead of peanuts.
On the cool whip container, it says it contains 8 oz… SO, 2 tubs = 2 Cups being that 8oz is 1 cup.
I won't be making this recipe again because I don't like the peanuts or the marshmallows in it.
Create a Rocky Road No-Bake Cheesecake with little effort. Our Rocky Road No-Bake Cheesecake is studded with delicious chocolate, marshmallows and peanuts.

@kraftrecipes: RT this Rocky Road No-Bake Cheesecake & we'll donate 1 meal to help #FeedtheWorld2017.
Rated 5 out of 5 by ChristineEve26 from This was a very tasty dessert and everyone loved it, it did not last long at all. This was a very tasty dessert and everyone loved it, it did not last long at all. However, I had to make it gluten-free by crushing up my own oreos to make it work. They didn't stick too well the way we did it but it was still a great dish even in its gluten-free form. <<< Response from Kraft Nutrition Expert, Jamie ~ We're glad that your special twist to this recipe was a family pleaser. Be sure to use gluten free cookies to make the crust if that's your dietary goal. >>>

Date published: 2012-05-12

Rated 4 out of 5 by Doggie Dee from I made this for the holiday weekend, and again Kraft produced a winner. I made this for the holiday weekend, and again Kraft produced a winner. Simply yummy. I used a plain grahmn cracker crust (what I had on hand), added a few extra peanuts and marshmellows, and set out a bottle of chocolate sauce and let people put how much of that they wanted to on it. I think the plain crust is much better and the chocolate sauce was a hit. Yum yum!

Date published: 2007-05-30

Rated 4 out of 5 by suzbucket from i made a mutant-hybrid out of this recipe based on what i had on hand. i made a mutant-hybrid out of this recipe based on what i had on hand. used a regular graham cracker crust, no peanuts, no marshmallows (i forgot to put them in), and mixed mini-reeses pieces and the chocolate pieces in with the cheesecake mixture. i thought it was really good, but my roommate disagreed (i do admit that it didn't look very appetizing). the cheesecake part is really tasty though, and i'd like to try it with the proper ingredients added.

Date published: 2008-02-13

Rated 3 out of 5 by lwtambellini from I liked this receipe and so did my husband. I liked this receipe and so did my husband. It was very quick to prepare. I think the receipe needs to specify whether the nuts should be salty or non-salty. Witht the peanuts I used I found them to be too salty. I might try non-salty peanuts next time or a different type of nut. Overall is was a great receipe, especially for someone like me who has never made any tupe of cheesecake before.

Date published: 2007-07-02

Rated 2 out of 5 by fjaye from A split decision at best. A split decision at best. I made this for a party, and used extra sugar, extra chocolate, and toasted almond slivers instead of peanuts. Although several guests complimented me on it, I personally found it to be on the bland side. The main flavor (to me) was that of cream cheese, not chocolate, and it overwhelmed the other ingredients. I would make this again only if requested.

Date published: 2014-06-01

Rated 1 out of 5 by tabs852tlc from Just to be fair to Kraft, I messed the recipe up! Just to be fair to Kraft, I messed the recipe up! On the cool whip container, it says it contains 8 oz… SO, 2 tubs = 2 Cups being that 8oz is 1 cup. Right?… WRONG!!! I should've measured the cool whip. My cheesecake doesn't taste like cheesecake. It only taste like coolwhip. I won't be making this recipe again because I don't like the peanuts or the marshmallows in it.

Date published: 2009-05-27

Rated 5 out of 5 by maddy621 from I made this recipe for a holiday party at my job. I made this recipe for a holiday party at my job. People were talking so much about it that they asked me for the recipe. I do have to say that I had to make some changes in case some people were allergic to peanuts. I used walnuts, very good it tasted delicious. I have also used regular graham pie crust instead of oreo pie crust and it doesn't take away from the flavor.

Date published: 2009-12-23

Rated 5 out of 5 by Tri415 from Made this yesterday for a 4t of July BBQ at my sisters. Made this yesterday for a 4t of July BBQ at my sisters. My brother-in-law tried to hide them from everyone to keep for himself. My cousin asked me to make her 40 for her 40th bday coming up. Instead of a pie, I made them into cupcakes. I smashed oreos and put a layer into the bottom of each cupcake and I used almonds instead of peanuts. Everyone loved them.

Date published: 2012-07-05