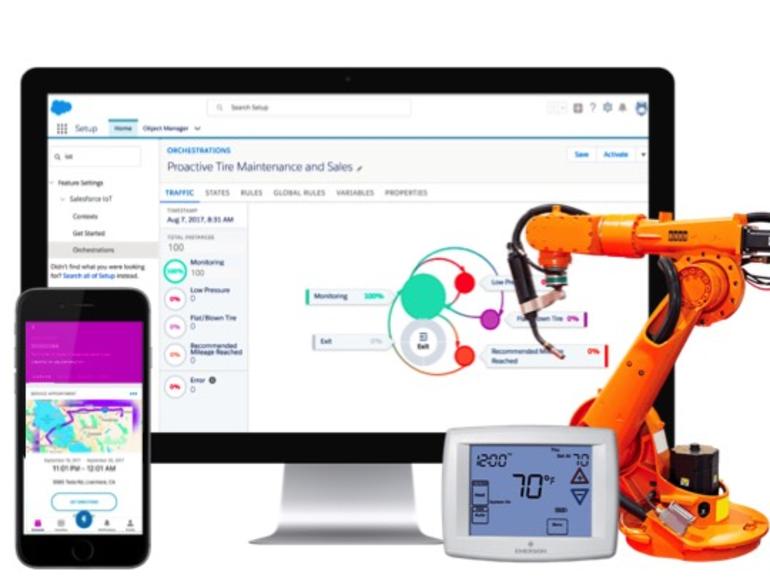 Salesforce IoT Explorer lowers barrier to IoT with low-code interface, proactive data
On Tuesday, Salesforce unveiled Salesforce IoT Explorer Edition, a new platform that aims to remove the barriers for companies of all sizes to take advantage of the internet of things (IoT) and sensor data.
Essentially, IoT Explorer Edition allows business users to capture sensor data and use it to trigger specific actions in the sales pipeline.
With IoT Explorer Edition, Salesforce is offering a low-risk solution for companies to explore IoT in a way that could directly impact their bottom line by boosting sales.
The 3 big takeaways for TechRepublic readersThe Salesforce IoT Explorer Edition is a new platform that lowers the barrier to entry for the internet of things among companies of all sizes.
Customers can also use Salesforce IoT Explorer Edition to proactively pursue maintenance or start the sales cycle for a customer whose product may be nearing end-of-life.
The Salesforce ​IoT ​Explorer ​Edition makes it easier for companies to leverage IoT data with a low-code platform, customer context, and more.

@imoyse: Salesforce IoT Explorer lowers barrier to IoT with low-code interface, proactive data #iot
On Tuesday, Salesforce unveiled Salesforce IoT Explorer Edition, a new platform that aims to remove the barriers for companies of all sizes to take advantage of the internet of things (IoT) and sensor data. Essentially, IoT Explorer Edition allows business users to capture sensor data and use it to trigger specific actions in the sales pipeline. And, it helps businesses overcome certain challenges relative to cost, available talent, and time that could be limiting their efforts, a press release said. One of the key features of the platform is low-code orchestration. This type of interface will allow business users to easily set rules governing the automation of connected devices that will initiate an action based on the data they receive, the release said. One example given by Salesforce was that of a solar energy company that has its sensors automatically start a service call if power levels drop under a certain threshold. SEE: Internet of Things policy template (Tech Pro Research) The platform also provides customer context as well, the release noted. For the aforementioned example, IoT Explorer Edition could let the service tech know how many failures this particular system has suffered. Or, it could let them know if the system is approaching end-of-life, prompting a potentially proactive sales opportunity, the release said.

Using data proactively is a big selling point for Salesforce IoT Explorer Edition. The press release describes the feature as the ability "to sell, service, and market…
Salesforce IoT Explorer lowers barrier to IoT with low-code interface, proactive data