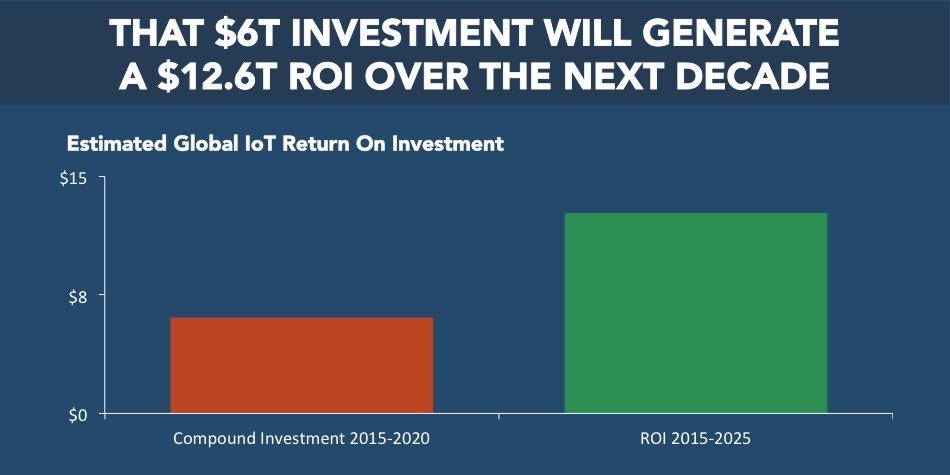 Internet of Things Research
The Internet of Everything â $12.6 trillion ROI expected over the next decade [SLIDE DECK]
There are also security concerns around connecting everything to the Internet.
BI Intelligence has created a slide deck exploring the most disruptive trends in IoT.  To get a more detailed view of the progression, landscape and projections of the Internet of Everything, access the complete slide deck by clicking .
It all started on our PCâ s. Now, single function items are becoming interfaces connected to the Internet and offering us capabilities above and beyond their original intended purpose.
Our businesses and governments are becoming more efficient by investing in the IoT revolution.
BI Intelligence has created a slide deck exploring the most disruptive trends in the IoT including an analysis of consumer, enterprise, and government markets.

@businessinsider: [SLIDE DECK] The Internet of Everything — $12.6 trillion ROI expected over the next decade
It all started on our PC's. Now, single function items are becoming interfaces connected to the Internet and offering us capabilities above and beyond their original intended purpose. The phone goes way beyond making calls, the watch goes way beyond telling time, the car goes way beyond getting us from place to place, etc.

Our businesses and governments are becoming more efficient by investing in the IoT revolution. Industries like oil, manufacturing, agriculture, medicine, insurance, retail, and utilities are all actively innovating with IoT installs. Governments are improving the quality of cities and defense programs with smart, Internet-connected solutions.

However, the IoT revolution doesn't come without hurdles. The current infrastructure is struggling to keep up with the Internet traffic. There are also security concerns around connecting everything to the Internet.

As a result of everything becoming connected, we are seeing shifts in investments and returns. There is already a great demand for network expansion, cyber security, and insurance. And generally, the prices of hardware will fall as IoT becomes less of a novelty.

All of this opens up a huge opportunity for everyone to make and save a lot of money. We will invest $6 trillion in IoT between 2015 and 2020, which will yield $12.6 trillion ROI over the next decade. Enterprise will make up the majority of the investment dollars, followed by government and consumer.

BI Intelligence has created a slide deck exploring the most disruptive trends in IoT.  To get a more detailed view of the progression, landscape and projections of the Internet of Everything, access the complete slide deck by clicking here.

Some of the topics covered include: