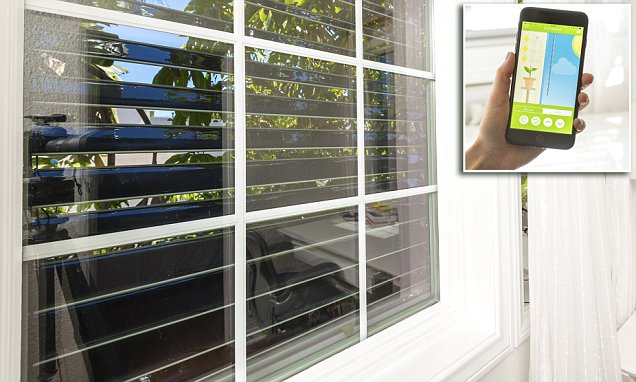 Now that's a bright idea! £200 'smart blinds' that store solar energy in a battery could slash 70% off your energy bills
Scientists have invented window blinds that store solar energy and are capable of slashing 70 per cent off homeowners' energy bills.
The creators of SolarGaps claim it is the world's first 'smart blind' that can store solar energy in a battery and is being marketed as an alternative to rooftop solar panels.
The blind has thin solar panels mounted on slats which generate up to 15 watt hours per square foot – enough power for the average sized window to charge a laptop.
Mr Erik, who was inspired to create the green blinds after installing countless solar panels on to office buildings through his construction firm in Ukraine, said: 'Millions of people live in apartments and don't have the possibility to mount solar panels on the roof.
'Unlike other smart blinds on the market, which generate only a small amount of electricity to power the control, SolarGaps produces enough electricity to power your devices, thus lowering your energy bill by up to 70 per cent.
The Redwood City-based creators of SolarGaps claim it is the world's first 'smart blind' that can store solar energy in a battery and is being marketed as an alternative to rooftop solar panels.

@evankirstel: 'Smart blinds' can store #solar energy in a battery #IoT #smarthome #homeautomation
By Shivali Best For Mailonline

Published: 06:09 EDT, 3 July 2017 | Updated: 06:56 EDT, 3 July 2017
Now that's a bright idea! £200 'smart blinds' that store solar energy in a battery could slash 70% off your energy bills