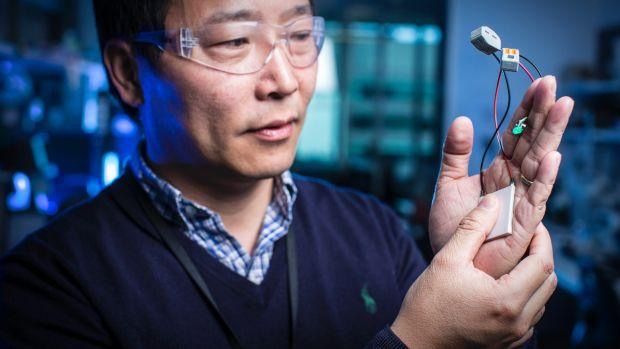 Fitness future: Smart textiles use body heat to power devices as you exercise
Jun Chen suggests being able to convert body temperature to electricity means we could "power" tech with fitness.
It is the difference between our body's temperature and the outside temperature that is the key and the technology works by using electrodes on either side of the fabric to convert this difference into an electric current that can charge small medical devices, fitness trackers or smart watch.
Early days: Professor Jun Chen with the new, flexible smart technology fabric.
"If we are happy, your body temperature goes up by about 4 degrees," Chen says, suggesting we can "power" tech with happiness as well as fitness.
So they began working with smart textile designers to create wearable technology that is flexible and can integrate into the clothes fibres to capture the heat and transform it into energy to power our electronic devices.
New research is paving the way to power our devices by powering up our fitness.Thermal energy and solar energy are not new, but as researchers have learnt more

@evankirstel: Smart textiles use body heat to power devices as you exercise #IoT #WearableTech
New research is paving the way to power our devices by powering up our fitness.

Thermal energy and solar energy are not new, but as researchers have learnt more about how to harvest that energy and convert it into power, they turned their attention to turning body heat into electricity.

Jun Chen suggests being able to convert body temperature to electricity means we could "power" tech with fitness.

This week at the 2017 Big Ideas Festival event, Professor Jun Chen of the University of Wollongong, spoke about his ongoing research into the area.

Eight years ago he, and an international team of researchers were tasked with exploring how to harness the unused heat from the pipelines at oil-based industry to create renewable power.

Jun Chen demonstrates wearable tech at the Australian Institute for Innovative Materials Intelligent Polymer Research Institute.

His team at the ARC Centre of Excellence for Electromaterials Science (ACES), then started thinking about other ways to capture the heat for power, including using our body's natural heat.

"Our body's temperature is different to the temperature in the environment," Chen explains. "Skin temperature is about 26 to 35 degrees … and inside we always keep our body at 36-38 degrees – it's a very reliable temperature."

It is the difference between our body's temperature and the outside temperature that is the key and the technology works by using electrodes on…
Fitness future: Smart textiles use body heat to power devices as you exercise