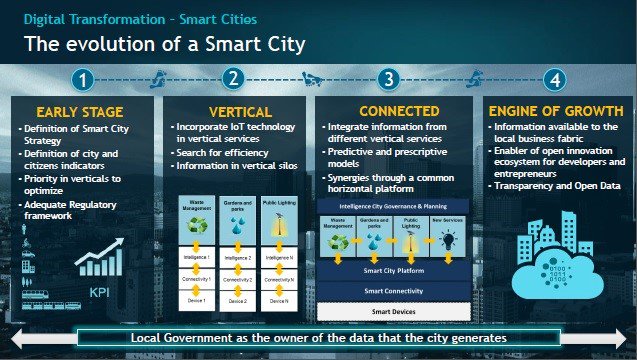 Challenges and opportunities for the digital transformation of Smart Cities
Vertical services vary depending on each city's priorities
Tackle the present and future needs of the city in terms of economic, social and environmental priorities
Manuela Mellado, Smart City Business Development Global Unit Manager, opened the Forum with her keynote addressing the challenges and opportunities for the digital transformation of Smart Cities.
The key indicators for the City are established, Verticals are ordered according to priorities and an adequate regulatory framework is put in place
Connected : Information integrated from different vertical services, creating predictive models and generating natural synergies between services seeking to unify all services in a single horizontal platform
Read the full article, click here.
---
@TelefonicaIoT: "#SmartCities must evolve and transform progressively step by step, following these stages"
---
The IoT 2016 Madrid Forum seminar, organized by the Executive Forum, took place today in Madrid. Relevant companies and institutions with experience in the Internet of Things (like Intel or IBM for example) showcased their projects and initiatives, focusing on Innovation and emerging Business Opportunities in areas such as Finance, wearables and Smart City.
---
Challenges and opportunities for the digital transformation of Smart Cities