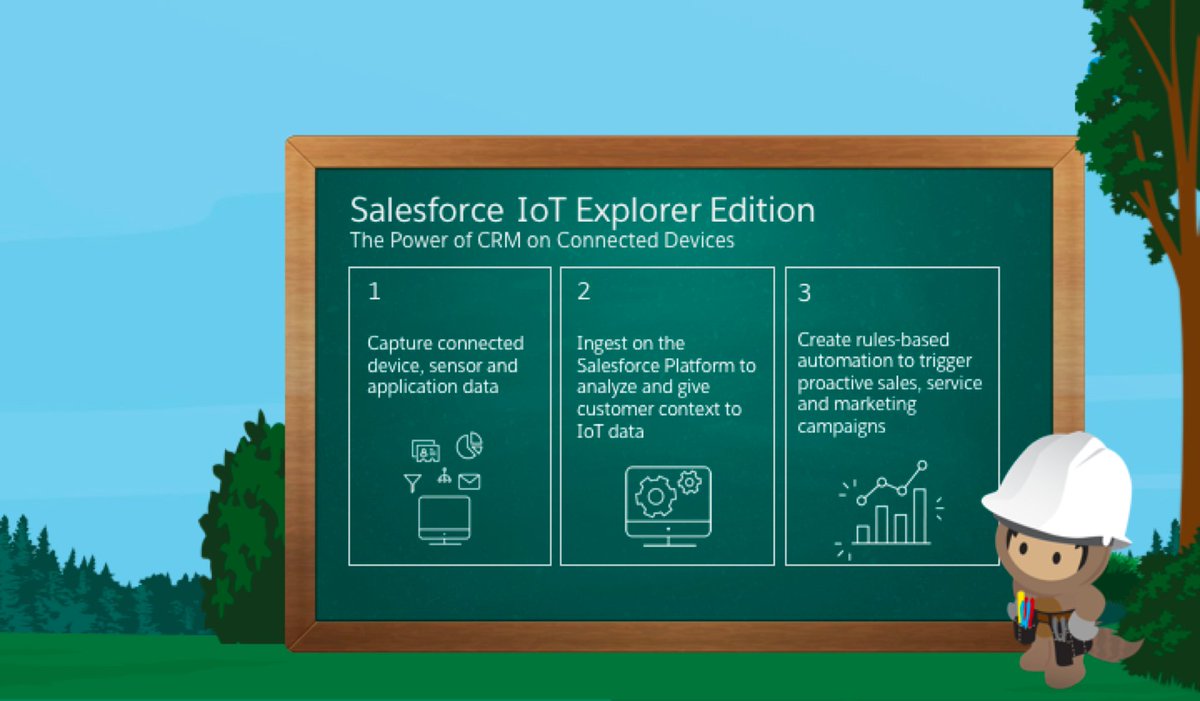 Salesforce IoT Explorer Edition: Unlock Customer Insights from a Connected World
We launched Salesforce IoT with a mission to connect this vast digital world to Salesforce, empowering any business to know and connect in a deeper way with the customer behind every device, sensor and application.
A platform service available to any customer, Salesforce IoT Explorer Edition is designed to remove those barriers and empower anyone to harness IoT data to build, iterate and deploy proactive sales, service or marketing business processes.
By connecting device, sensor and application data to the Salesforce Platform, IoT Explorer Edition puts all that customer context in the palm of your hand (or both hands; some field agents use tablets now).
Thank you very much to our pilot customers, including Emerson Climate Technologies, Schneider Electric, Lippert Components and Rehrig Pacific, who rode along with us to bring Salesforce IoT Explorer Edition to life.
Salesforce IoT Explorer Edition is expected to be generally available on October 17, 2017 as a platform service add-on to any Salesforce Cloud.
Few parts of our lives remain "unconnected" by the Internet of Things (IoT). Billions of chips and sensors are streaming data from our phones, homes, bodies and more. By 2020, the digital universe will contain nearly as many digital bits as there are stars in the physical universe.
We launched

@salesforce: Starting today, the NEW Salesforce IoT Explorer Edition empowers anyone to harness IoT data.
Few parts of our lives remain "unconnected" by the Internet of Things (IoT). Billions of chips and sensors are streaming data from our phones, homes, bodies and more.  By 2020, the digital universe will contain nearly as many digital bits as there are stars in the physical universe.

We launched Salesforce IoT with a mission to connect this vast digital world to Salesforce, empowering any business to know and connect in a deeper way with the customer behind every device, sensor and application. We saw a future where businesses of all sizes could collect data at IoT scale, trigger actions with real-time rules and use the power of Salesforce to proactively engage with customers.

Today, with the launch of our new Salesforce IoT Explorer Edition, we're able to make that future a reality. Many businesses struggle with the prohibitive cost in time, talent and money of turning IoT data into actionable information. A platform service available to any customer, Salesforce IoT Explorer Edition is designed to remove those barriers and empower anyone to harness IoT data to build, iterate and deploy proactive sales, service or marketing business processes.

Here's how Salesforce IoT Explorer Edition works:

 

 

Low-code orchestration. Not many can afford hiring a team of developers to build proactive IoT business processes. That's why Salesforce IoT Explorer ships with an easy to use, low-code interface.  Business users can click their…
Salesforce IoT Explorer Edition: Unlock Customer Insights from a Connected World