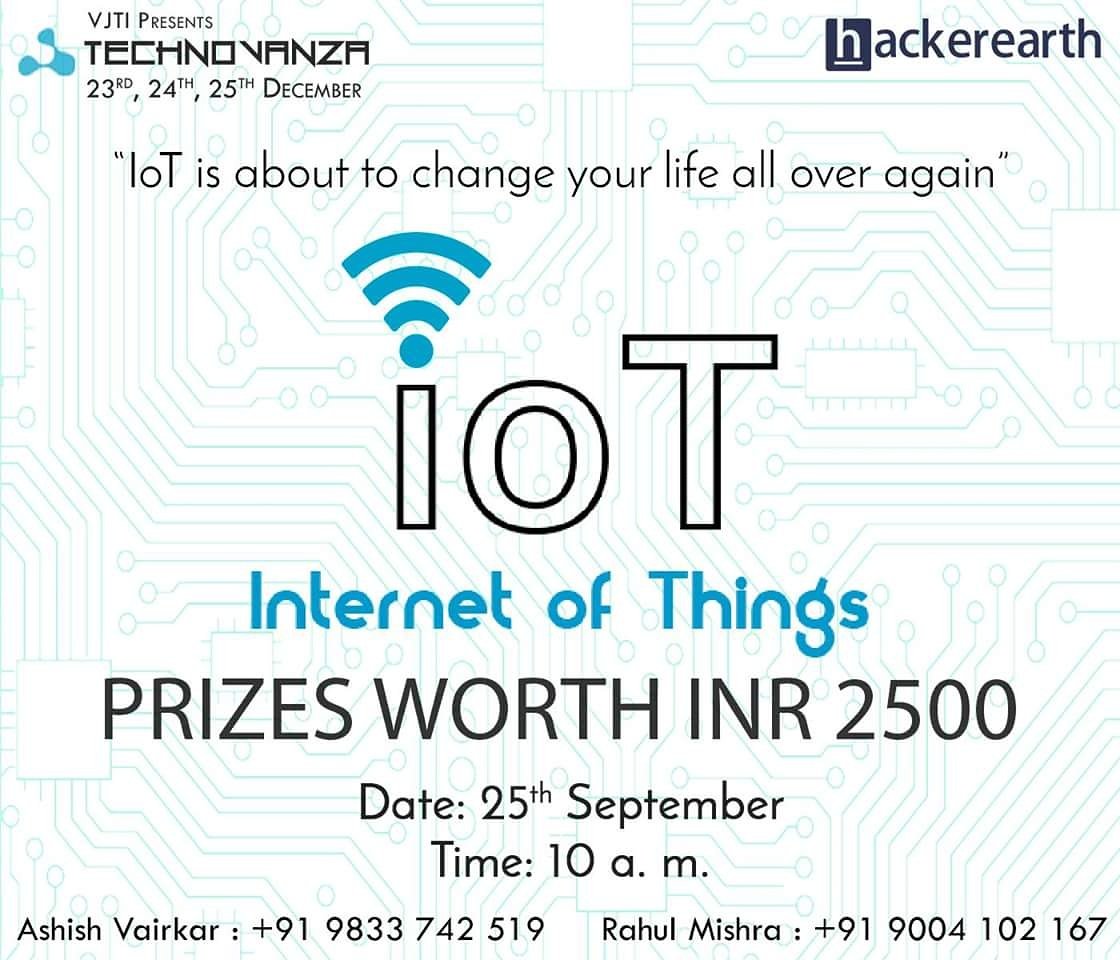 Round 3: Essay Round: This round will have essay writing.
CRITERIA FOR SELECTION: 5 players with highest score will qualify for final round.
Contestants will require basic knowledge about internet of things to successfully complete this round.
The round will include puzzles based on information about internet of things.
It will test how much you know about internet and things which it contain that is information.
This round will include puzzles based on information about internet of things. The difficulty in this round will be medium. Total 10 questions.

@Technovanza: #Technovanza presents the second online event-InternetofThings!
Register at:
@HackerEarth
IOT will contain questions about various activities which are performed on internet. It doesn't require any programming knowledge or technical skill.

It will test how much you know about internet and things which it contain that is information.

For this the participant should know basic information about internet facilities and what it provides.

This round will consist of simple multiple choice questions on general knowledge of internet of things.

Here the players will be judged on their scores.

Contestants will require basic knowledge about internet of things to successfully complete this round. Total 30 questions.

1 point per question (no negative marking).

20 players with highest scores will qualify for semifinal round.

This round will include puzzles based on information about internet of things.

The difficulty in this round will be medium. Total 10 questions.

3 points per question (no negative marking).

5 players with highest score will qualify for final round.

This round will have essay writing. The contestants will have to explain their idea on topic provided.

They will have to explain (not in technical depth) how their idea can be implemented.

One finalist with best explanation will win.

a. Internet of Things is based on

b. Each person can register only once.

c. The participants have to go through 3 rounds in IOT

d. After receiving the problem statement the members will not be allowed to discuss the approach to be followed.

e. Participants are not allowed to bring any media devices such as pen drives, CD, DVD etc.

f. Cell phones must be switched off.

g. Any violation of rule may lead to disqualification.

h. Apart from these Rules, some additional rules can be disclosed on the spot.

The decision of the organizers is final and binding.

call&nbsp Saurabh Patil – 8097905186

call&nbsp Shantaram Shanbhaug – 9773189189