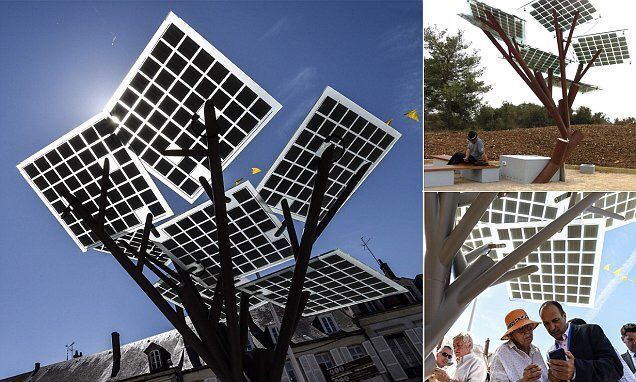 The eTree takes root: Radical artificial plant could bring wifi to cities, charge your phone and even give your dog a drink
A solar tree with giant square leaves that convert sunlight into electricity was unveiled in the central French town of Nevers on Monday, allowing passers-by to charge their phones, surf the internet…or just enjoy the shade.
Inspired by the acacia tree found in the Israeli desert and African savanna, the futuristic-looking 'eTree' also supplies water and street lighting.
It was created in a partnership between French firm JCDecaux, the town of Nevers and Israeli entrepreneurs with Sol-logic.
A year later the first operational model was presented at the COP 21 climate conference in Paris, and it's that same tree that was re-planted in Nevers.
Since then solar trees have been planted in around 10 cities in Israel and in the US in North Carolina and California.
The eTree tree has WiFi, seating, USB charging and a water fountain, with a separate water trough for pets. It was unveiled in the town of Nevers in France and is the first eTree in Europe.

@evankirstel: The eTree takes root: Tree with #solar panels unveiled in France #smartcities #IoT
By Afp and Cecile Borkhataria For Dailymail.com

Published: 17:00 EDT, 29 May 2017 | Updated: 21:11 EDT, 29 May 2017
The eTree takes root: Radical artificial plant could bring wifi to cities, charge your phone and even give your dog a drink