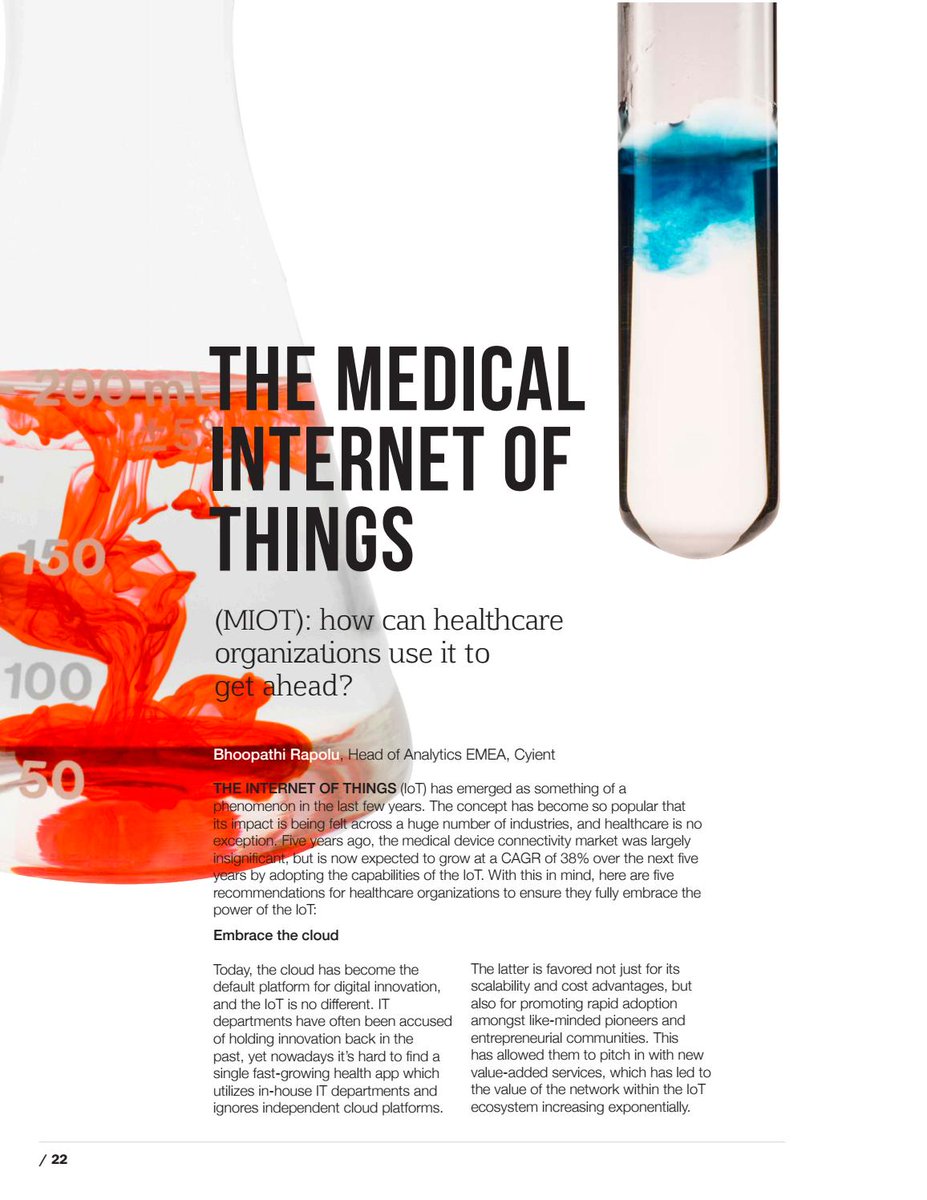 IoT Innovation, Issue 3 by Innovation Enterprise
The Medical Internet of Things (MIOT): how can healthcare organizations use it to get ahead?
Bhoopathi Rapolu, Head of Analytics EMEA, Cyient THE INTERNET OF THINGS (IoT) has emerged as something of a phenomenon in the last few years.
Five years ago, the medical device connectivity market was largely insignificant, but is now expected to grow at a CAGR of 38% over the next five years by adopting the capabilities of the IoT.
With this in mind, here are five recommendations for healthcare organizations to ensure they fully embrace the power of the IoT: Embrace the cloud Today, the cloud has become the default platform for digital innovation, and the IoT is no different.
This has allowed them to pitch in with new value-added services, which has led to the value of the network within the IoT ecosystem increasing exponentially.
IoT Innovation, Issue 3

@evankirstel: The Internet of Medical Things #IoT #healthcare #digitalhealth
IoT Innovation, Issue 3 by Innovation Enterprise – issuu

issuu company logo issuu

Explore Categories

Arts & Entertainment

Style & Fashion

Home & Garden

Business

Travel

Education

See all categories

Collections

Top Picks

Generators

Hygge

Feminism

Zines

Makers

Publisher Plans

Cancel

Sign up Sign in Sign in

Info

Save

Like

Share

Download

More

IoT Innovation, Issue 3  

Published on Sep 19, 2016  

IoT Innovation, Issue 3

innovationenterprise

Follow

Read more

Read more

Similar to

Popular now

Just for you

Go explore

About issuu

Plans & Pricing

Developers

Advertise with us

Careers

Community

Directory

Legal

Help & Support