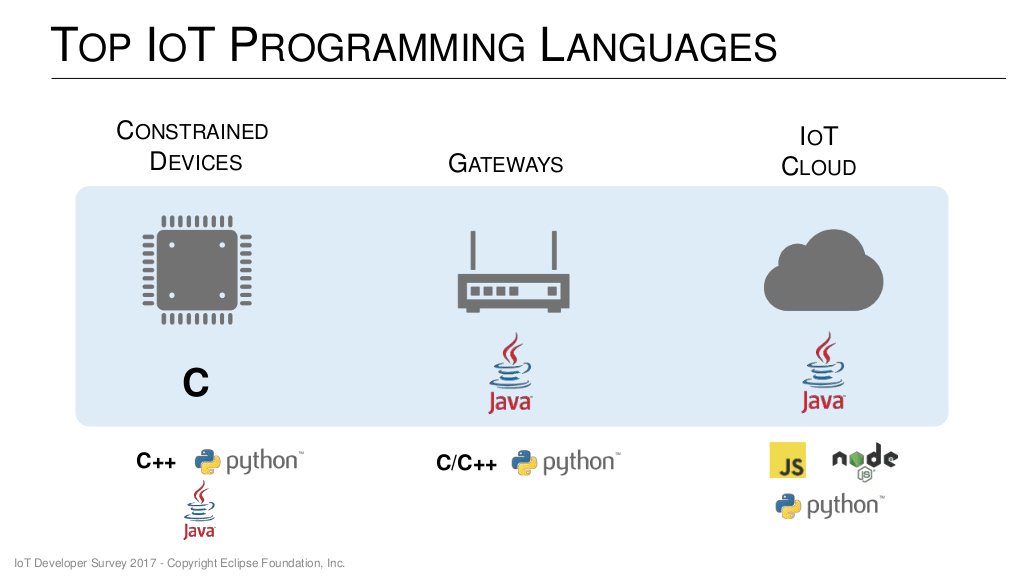 IoT diversity and evolution: The latest IoT developer trends
In this article, Yuliya Gudkova takes a look at some of the latest trends from developers to see how the IoT programming world has changed over the last year and what is likely in the year ahead.
Their increase could be due to a shift in cloud service trends.
The use of private or on-premise cloud services has dropped significantly from 34.9% in 2016 to 18.4% this year.
The one major area that has seen a substantial alteration in the last year is regarding the use of private/on-premise cloud services.
The decline may be caused by a number of factors, not least the attractiveness and accessibility of commercial providers compared to the technical requirements for running a private / on-premise cloud service.
The rapid evolution of IoT means things are always changing. In this article, Yuliya Gudkova takes a look at the past, present, and future of IoT.

@java: The latest #IoT developer trends
The rapid evolution of IoT means things are always changing within the field. In this article, Yuliya Gudkova takes a look at some of the latest trends from developers to see how the IoT programming world has changed over the last year and what is likely in the year ahead.

The IoT Developer Survey 2017 has provided a useful overview of the latest IoT tendencies within the developer community. This annual survey took place in February and March of this year with responses from over 700 developers. The Eclipse IoT Working Group, IEEE IoT, AGILE IoT, and IoT Council were responsible for sponsoring this survey. The goal was to figure out trends within the field and understand how developers are building IoT solutions.

The survey shows a high degree of commonality between the main programming languages. Java and Python are used universally for Constrained Devices, IoT Gateways, and IoT Cloud Platforms. However, Constrained Devices and Gateways both share a significant usage of C and C++. In addition to that, development of IoT Cloud Platforms makes greater use of Javascript and Node.js.

There continues to be a broad range of languages used. This shows that there is a significant diversity in approaches to meeting customer requirements. It is clear that the end requirement or end user also has a major impact in the choice of languages that are used. It is also worth noting that respondents continue to show mastery of multiple languages. This shows diverse skill sets and continued professional development.

Connectivity protocols are another point of interest for this survey. In both 2015 and 2016, TCP/IP and Wi-Fi were used the most for protocols for IoT solutions. This result was the same in 2017, with 67% of respondents using TCP/IP and 66.4% using Wi-Fi.

In terms of trends, there has been a continued increase in the numbers of respondents using Bluetooth / Bluetooth Smart, LPWA, and 6LoWPAN. For Bluetooth, the percentage of respondents making use of it has grown from 35.8% in 2015 to 40.9% in 2016 and 48.2% in 2017. Similarly, LPWA has grown from 17.3% in 2016 to 22.4% in 2017. 6LoWPAN has also shown steady annual growth, increasing from 12.9% in 2015 to 16.2% in 2016 and finally to 21.4% in 2017.

However, the results also show that we are seeing a sustained decline in the use of Wi-Fi, ethernet, and cellular protocols. While it is just a slight percentage drop each year, the trend is clear. It will be interesting to see if this trend continues into 2018 or if the pace of decline accelerates in the year ahead.

Linux systems continue to dominate the IoT Gateway devices sector, being used in 57.5% of devices. Over 65% of respondents indicating that they used it. This means that Linux outpaced other gateway systems by a considerable margin. In a distant second place, Windows had 20% of usage by respondents. Surprisingly, no other single operating system went above 5%.

The 2017 survey has shown some noteworthy shifts. Amazon AWS continues to be the leading Platform, with 42% of the market share. MS Azure ranks second with 26.7% and Google Cloud Platform comes into third with 20.4%. All three have shown an increase in the past three years. Their increase could be due to a shift in cloud service trends. The use of private or on-premise cloud services has dropped significantly from 34.9% in 2016 to 18.4% this year. This can be seen in the table below.

Looking at the results from the 2017 survey, it seems as if the changes observed this year are in line with previous trends. Most of last year's general trends have continued. However, since the field is still quite new it's difficult to state whether this is a permanent trend or just a statistical blip.

The one major area that has seen a substantial alteration in the last year is regarding the use of private/on-premise cloud services. The decline may be caused by a number of factors, not least the attractiveness and accessibility of commercial providers compared to the technical requirements for running a private / on-premise cloud service. Another factor might be the potentially greater opportunity-cost or risk elements. It could also represent the increasing maturity of the sub-sector. As mainstream companies start to build their market shares at the expense of privately run services and smaller companies enter the market, it becomes easier to target those in the user company that are unhappy with using larger, corporate providers. It is likely that there are economic drivers here, as the prices charged for cloud services become more competitive and the services provided become more user friendly.
IoT diversity and evolution: The latest IoT developer trends