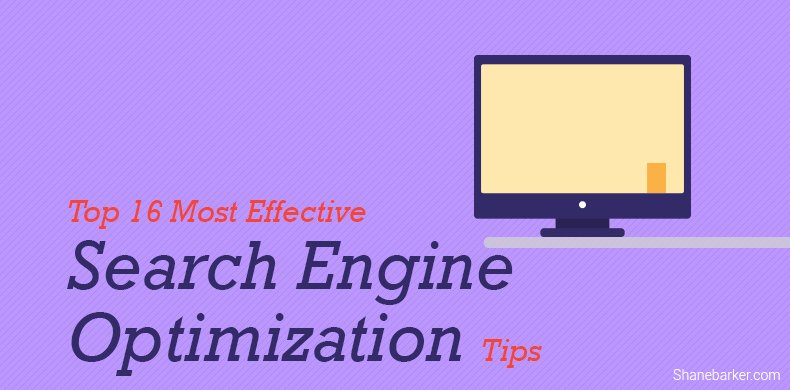 Top 16 Most Effective Search Engine Optimization Tips
And a little help from the experts – like the search engine optimization tips below – can save you a lot of time on Google's third page of results.
In this ruthless ecosystem of advertising, most businesses wouldn't get the online traffic they need to grow and develop without the search engines to crawl and index their pages.
Once the search engines can see the value of your site to their users, they will prioritize your site up to the top of the results pages.
You need to look at all of your SEO efforts through two lenses – one, of the cold, calculating search engines, and one of the real human sitting at their keyboard looking up recipes or cats.
Packing your page with nonsensical keywords for the search engines is defeating the purpose of SEO.
Save time and money with the 16 most effective search engine optimization tips from the experts. SEO is one of the biggest challenges of digital marketing

@shane_barker: Top 16 Most Effective Search Engine Optimization Tips #SEO
SEO is one of the first hurdles to jump in digital marketing. And a little help from the experts – like the search engine optimization tips below – can save you a lot of time on Google's third page of results.

Autocomplete and search predictions, oh how you've spoiled us!

Let's face it – there are very few times in a day when you actually enter the URL of the website you're looking for into your browser. More often than not, you probably enter the brand name, or a loosely based search query, and wait for Google to spoon-feed you the site you want.

In this ruthless ecosystem of advertising, most businesses wouldn't get the online traffic they need to grow and develop without the search engines to crawl and index their pages. And unless you study the rule book, and play your hand correctly, you're only making their job easier by taking your business out of the index.

Search engine optimization can seem like a big job, but without it, you'll sink further and further through the search engine results pages, while giving your competitors an even bigger advantage over you.

There are a few tricks to getting on the good side of the search engine organic results page:

Once the search engines can see the value of your site to their users, they will prioritize your site up to the top of the results pages. The most important factor in…