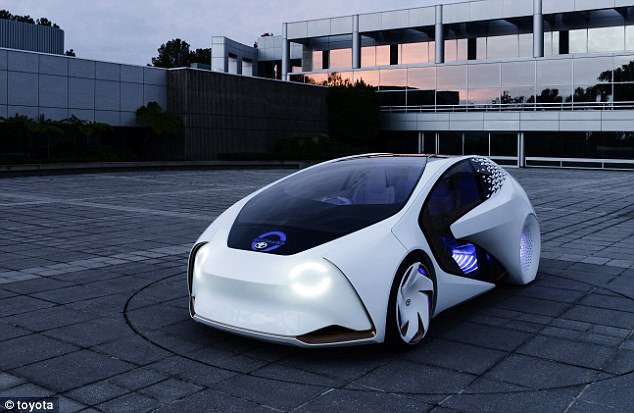 Toyota joins forces with Intel and five other companies to develop a self-driving car 'ecosystem'
They plan to share data to create a self-driving car 'ecosystem' and push technology in the space, including maps and intelligent driving.
'The objective of the consortium is to develop an ecosystem for connected cars to support emerging services such as intelligent driving, the creation of maps with real-time data and driving assistance based on cloud computing,' the announcement reads.
Earlier this week, Intel announced plans for a fleet of self-driving cars following its completion of the purchase of Israeli autonomous technology firm Mobileye.
The testing in real-world conditions 'provides immediate feedback and will accelerate delivery of technologies and solutions for highly and fully autonomous vehicles,' said Mobileye co-founder Amnon Shashua, who is to run the unit for Intel.
Intel, which has been expanding beyond its core of computer chipmaking, is keen for its technology to be an engine powering self-driving systems across the spectrum of vehicle makers.
Intel, Toyota and others joined forces to create the Automotive Edge Computing Consortium. They plan to share data to boost the creation of maps and improved driver assistance tech.

@evankirstel: Toyota teams up with Intel, others to make self-driving car ecosystem #Iot #ai
By Sage Lazzaro For Dailymail.com and Afp

Published: 16:57 EDT, 11 August 2017 | Updated: 20:12 EDT, 12 August 2017
Toyota joins forces with Intel and five other companies to develop a self-driving car 'ecosystem'