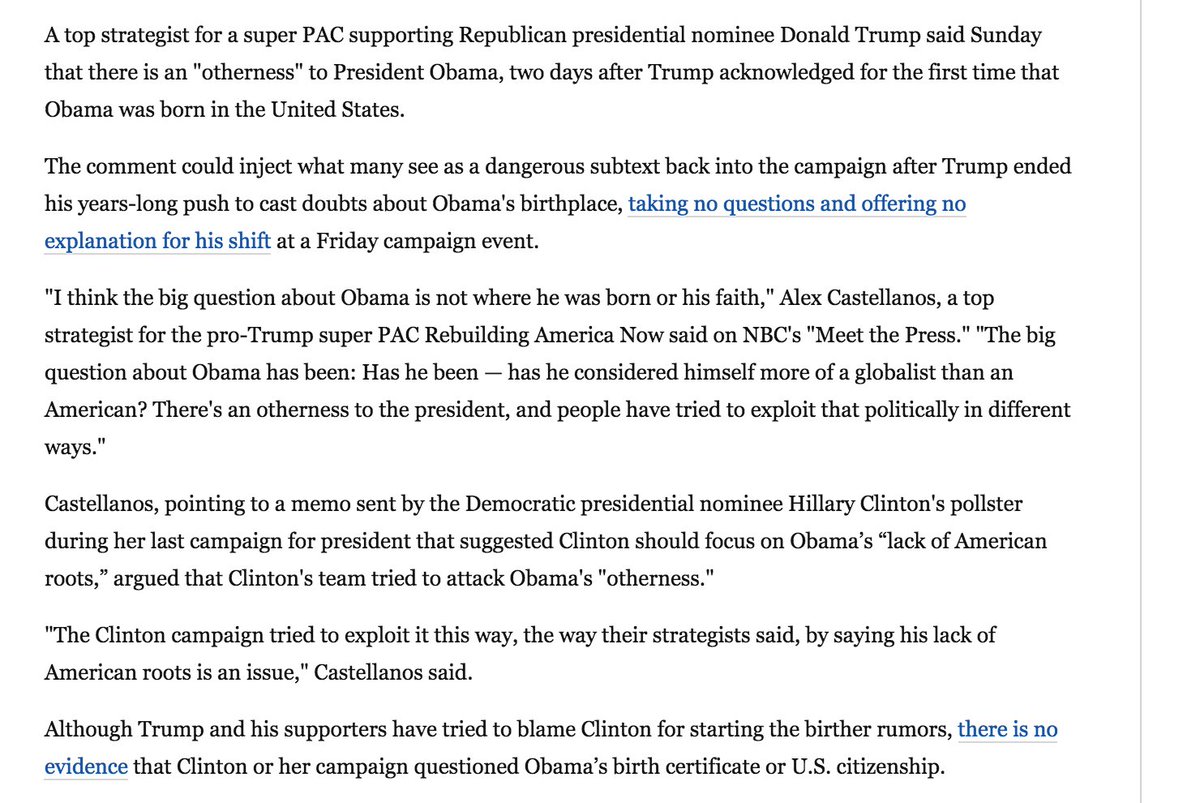 Trump super PAC strategist says there is an 'otherness' to Obama
World Watchers consistently offer thought-provoking, timely comments on international affairs.
Comments our editors find particularly useful or relevant are displayed in Top Comments , as are comments by users with these badges: .
Christie repeats inaccurate talking points on Trump's birther comments
Sean Sullivan has covered national politics for The Washington Post since 2012.
Trump has a one-point lead in the polling average.
Alex Castellanos made his remark on "Meet The Press."

@SopanDeb: Trump super PAC strategist says there is an 'otherness' to Obama
A top strategist for a super PAC supporting Republican presidential nominee Donald Trump said Sunday that there is an "otherness" to President Obama, two days after Trump acknowledged for the first time that Obama was born in the United States.

The comment could inject what many see as a dangerous subtext back into the campaign after Trump ended his years-long push to cast doubts about Obama's birthplace, taking no questions and offering no explanation for his shift at a Friday campaign event.

"I think the big question about Obama is not where he was born or his faith," Alex Castellanos, a top strategist for the pro-Trump super PAC Rebuilding America Now said on NBC's "Meet the Press." "The big question about Obama has been: Has he been — has he considered himself more of a globalist than an American? There's an otherness to the president, and people have tried to exploit that politically in different ways."

Castellanos, pointing to a memo sent by the Democratic presidential nominee Hillary Clinton's pollster during her last campaign for president that suggested Clinton should focus on Obama's "lack of American roots," argued that Clinton's team tried to attack Obama's "otherness."

"The Clinton campaign tried to exploit it this way, the way their strategists said, by saying his lack of American roots is an issue," Castellanos said.

Although Trump and his supporters have tried to blame Clinton for starting the birther rumors, there is no evidence that Clinton or her campaign questioned Obama's birth certificate or U.S. citizenship.

Jenna Johnson contributed to this report.

Trump has a one-point lead in the polling average. In a four-way matchup that includes both third-party nominees, Gary Johnson of the Libertarian Party and Jill Stein of the Green Party, Trump leads Clinton 42.5 percent to 40.8 percent.

The polling average shows Clinton's lead here down to 3.7 points, down from double digits last month.
Trump super PAC strategist says there is an 'otherness' to Obama