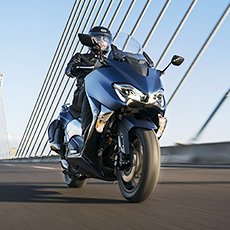 Read all about the business side of the Internet of Things .
Copyright © 2015-2016 IoT Business News – edited by VisiQuest.
The TMAX SX and TMAX DX will also be protected from theft through Vodafone's stolen vehicle tracking and recovery service, which uses a network of secure operating centres that manage alerts 24/7 and liaise with police authorities for the recovery of stolen vehicles across Europe.
The new Yamaha TMAX will include as standard My TMAX Connect to remotely access features on the scooter.
Vodafone will be providing the embedded telematics system for the new Yamaha TMAX SX and TMAX DX models – the company's first connected scooters.
Vodafone will be providing the embedded telematics system for the new Yamaha TMAX SX and TMAX DX models – the company's first connected scooter.

@imoyse: Vodafone telematics expertise supports Yamaha's first connected scooter #iot #cloud
The new Yamaha TMAX will include as standard My TMAX Connect to remotely access features on the scooter. Protected from theft by Vodafone's stolen vehicle tracking and recovery service.

Vodafone will be providing the embedded telematics system for the new Yamaha TMAX SX and TMAX DX models – the company's first connected scooters.

The TMAX SX and DX will include as standard My TMAX Connect, a remote access service available through the dedicated mobile application that allows the rider to locate the bike, receive an alert when the bike battery is low or activate the horn and blinker.

The TMAX SX and TMAX DX will also be protected from theft through Vodafone's stolen vehicle tracking and recovery service, which uses a network of secure operating centres that manage alerts 24/7 and liaise with police authorities for the recovery of stolen vehicles across Europe.

Vodafone Internet of Things Director, Ivo Rook, said:

"By creating this capability for the new Yamaha scooter, we have opened up a new range of services that the company will be able to offer its customers. The value that comes from being able to connect more and more things is being recognised by consumers and businesses alike and it is changing the world around us."