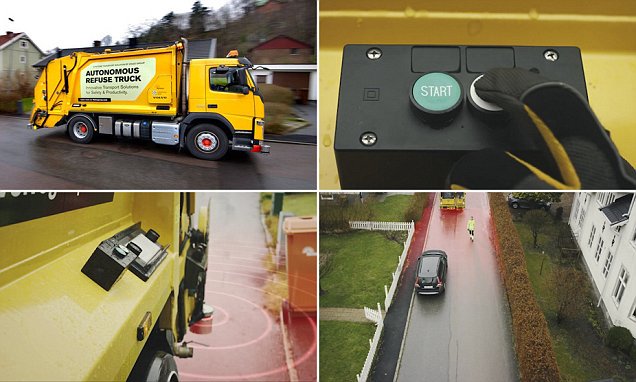 Now robots are taking jobs from BIN MEN: Volvo launches automated garbage trucks in Sweden
Volvo has made a robot truck that makes picking up rubbish safer, swifter and more efficient – but it also cuts the manpower needed for the job.
In March, an automated bricklaying robot was unveiled by New York-based company Construction Robotics.
The robot, which can lay bricks six times faster than a human builder, is set to arrive on building sites in the UK within two years after already starting work in the US.
But experts are worried that the bricklaying robots could make the jobs of thousands of UK builders redundant.
'Robots will soon be on construction sites doing jobs that humans do, but faster,' Richard Valentine-Selsey, a construction consultant, told the Times.
The Volvo truck (pictured), which has sensors that guide it around obstacles, is currently in a testing phase in northern Sweden.

@evankirstel: Volvo unveil automated garbage trucks #IoT #AI
By Harry Pettit For Mailonline

Published: 12:48 EDT, 26 May 2017 | Updated: 13:11 EDT, 26 May 2017
Now robots are taking jobs from BIN MEN: Volvo launches automated garbage trucks in Sweden