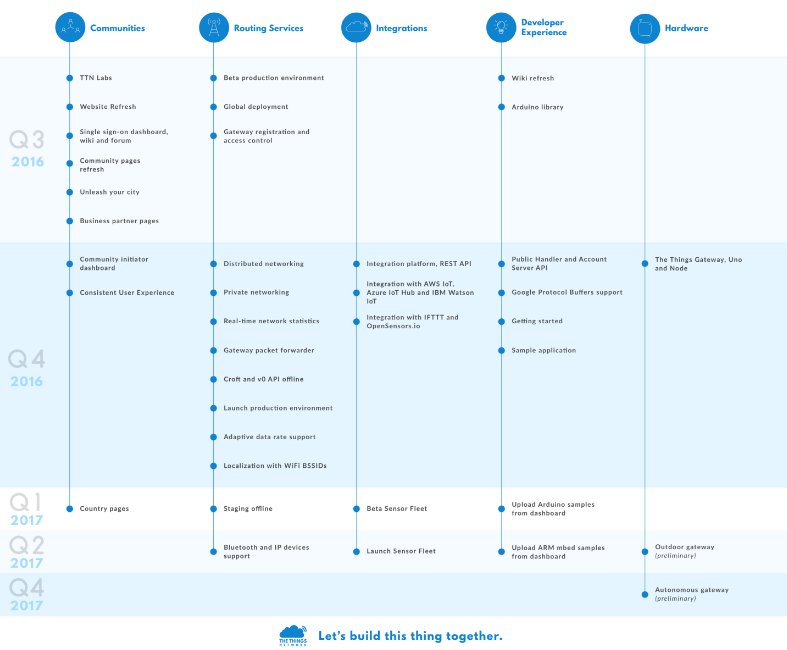 The Things Network Roadmap 2016 Q3
There will be an open endpoint for devices that feature an internet connection to connect to The Things Network directly.
We will support any AppEUI and DevEUI for devices, so that you can activate any existing LoRa device on The Things Network.
After releasing the staging environment early this year to make things work almost like they should, we have been refactoring the back-end to make it right.
Everywhere we come around the world, we see things coming to life, communities to become mature, people working on use cases, businesses developing products on top of The Things Network and people learning a lot of things.
For some services, we publish more questions than answers by making them open source, in some services we invest a lot of time, money and risk, and some services are only usable and useful in the public community network and not in private networks.
The core team has been very busy with engineering awesome stuff that I'd like to share with you today.
Without further due, here's the roadmap addressing updates in communities, routing services, integrations, develope…

@thethingsntwrk: Want to know our plans for the Future? Have a look at The Things Network Roadmap #IoT #LoRa
The Things Network Roadmap 2016 Q3 – 2017 Q2 – The Things Network