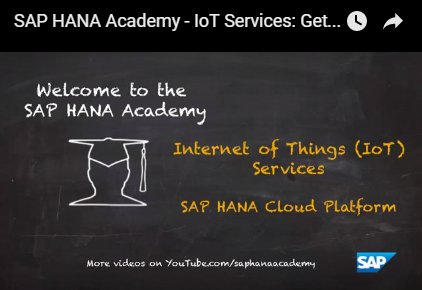 Hand's-On Video Tutorials for Internet of Things (IoT) Services
You probably recall SAP launched SAP HANA Cloud Platform for the Internet of Things at SAPPHIRE NOW back in May.
The Internet of Things or IoT is one of the hottest topics in IT right now.
As you might expect from the HANA Academy, we've also given this series a strong SAP HANA flavor – covering not just the IoT services themselves but also how to exploit the full power of HANA to integrate, extend, and consume IoT messages.
The series goes all the way from first steps to get started to how to post messages from a real-world device such as a Tessel .
Login to follow, like, comment, share and bookmark content.
Read the full article, click here.
---
@SAPCommNet: "Want to learn more about #IoT? Check out this list of 17 video tutorials:"
---
To complement this, the HANA Academy has just published a series of hands-on video tutorials – focusing on the Internet of Things (IoT) services capability that can help you connect the core of your business to the edge of the network.
---
Hand's-On Video Tutorials for Internet of Things (IoT) Services