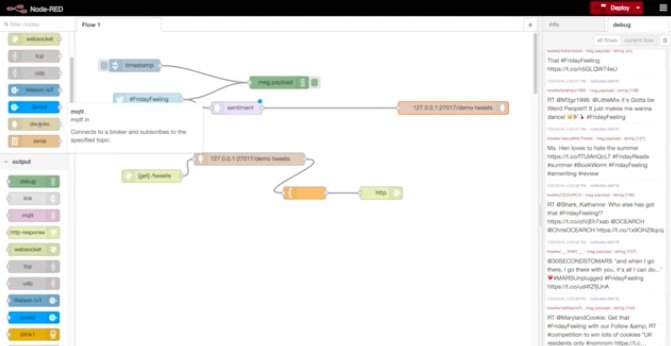 Wiring together the Internet of Things
Nick O'Leary and Dave Conway-Jones of IBM's Emerging Technologies group were looking for a way to simplify the process of linking together systems and devices when developing for the Internet of Things.
Much has been written about how the Internet of Things has disrupted traditional businesses – and how that disruption is poised to skyrocket as we distill better insights from our connected devices.
And while Node-RED is an incredibly useful tool for wiring together the Internet of Things, it has applications far beyond IoT.
Because many engineers begin tinkering with IoT ideas on a Raspberry Pi, IBM has committed to the Pi ecosystem to deliver [
What started as a side project a few years ago in the IBM Hursley Lab, has grown to become an important open-source tool to wire together the Internet of Things.
Read the full article, click here.
---
@ChrisROConnor: "Wiring the Internet of Things: a look at how easy @NodeRED makes #IoT development."
---
Latest news and trends for Watson IoT (Internet of Things)
---
Wiring together the Internet of Things