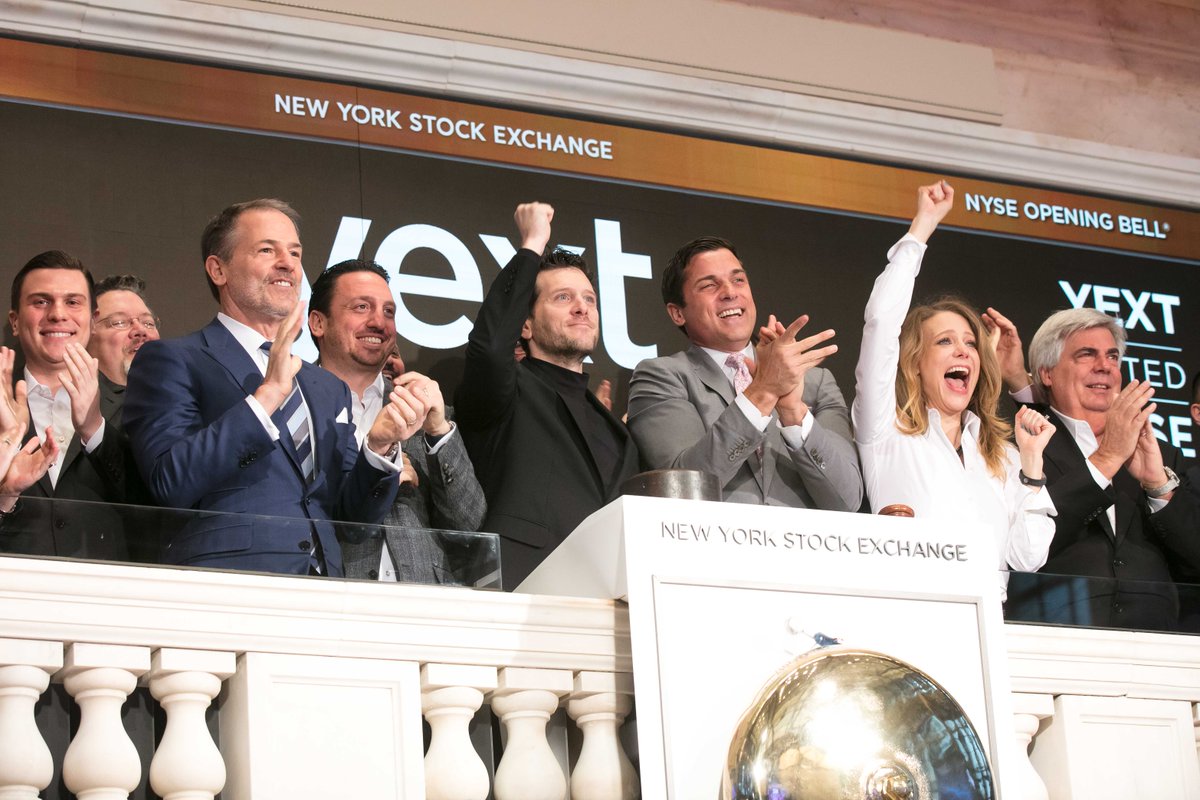 Yext passes its first test as a publicly traded company
Yext's first earnings report as a publicly traded company seems to be a boringly pleasant one — but that's a good thing for a company that needs to show strong performance out of the gate.
While Snap opened the floodgates for IPOs this year, an enterprise company like Yext had to show the kind of predictable growth and performance that might be expected from similar companies like Box (which also had a boringly pleasant earnings report this quarter).
Now on to the boring bits, which sent the stock up 1 percent in extended trading: Yext said it generated $37.1 million in revenue, up 37 percent from the same quarter last year.
Instead, users are likely searching on Google Maps or other apps, which gives these companies an incentive to pay for Yext to make sure all that works smoothly.
Yext was one of a large batch of companies that went public earlier this year, starting with Snap, and nearly all of them have at least appeared to have successful openings.
Yext's first earnings report as a publicly traded company seems to be a boringly pleasant one — but that's a good thing for a company that needs to show..

@craigbrownphd: Yext passes its first test as a publicly-traded company #5G #IoT #mobile
Yext's first earnings report as a publicly traded company seems to be a boringly pleasant one — but that's a good thing for a company that needs to show strong performance out of the gate.

These early reports can be critical for setting the stage and expectations for a company going forward. Snap, for example, whiffed on its first earnings and promptly saw its stock tank, and Twilio's last report did not fare that well either. While Snap opened the floodgates for IPOs this year, an enterprise company like Yext had to show the kind of predictable growth and performance that might be expected from similar companies like Box (which also had a boringly pleasant earnings report this quarter).

Now on to the boring bits, which sent the stock up 1 percent in extended trading: Yext said it generated $37.1 million in revenue, up 37 percent from the same quarter last year. It also reported a loss of 13 cents per share. Wall Street expected a loss of 15 cents per share on revenue of $35.4 million. For a young company, it may seem like a nominal amount of revenue, but it has to show it can continue to grow a business built on the backs of a user behavior that companies have to chase — getting the information they need from a variety of different sources on the internet.

The company's software helps companies make sure their basic information — like addresses — are the same and accurate across the variety of apps and sites that people use every day. If you're looking for a location of a restaurant, you probably aren't going to the company's website. Instead, users are likely searching on Google Maps or other apps, which gives these companies an incentive to pay for Yext to make sure all that works smoothly.

Yext took clear advantage of the IPO window being open, with the stock popping nearly 21 percent on its first day of trading. After pricing the IPO at $11, Yext is now hovering at around $14.75 per share — putting its market capitalization over $1.2 billion. Yext was one of a large batch of companies that went public earlier this year, starting with Snap, and nearly all of them have at least appeared to have successful openings.

Featured Image: REUTERS/Brendan McDermid